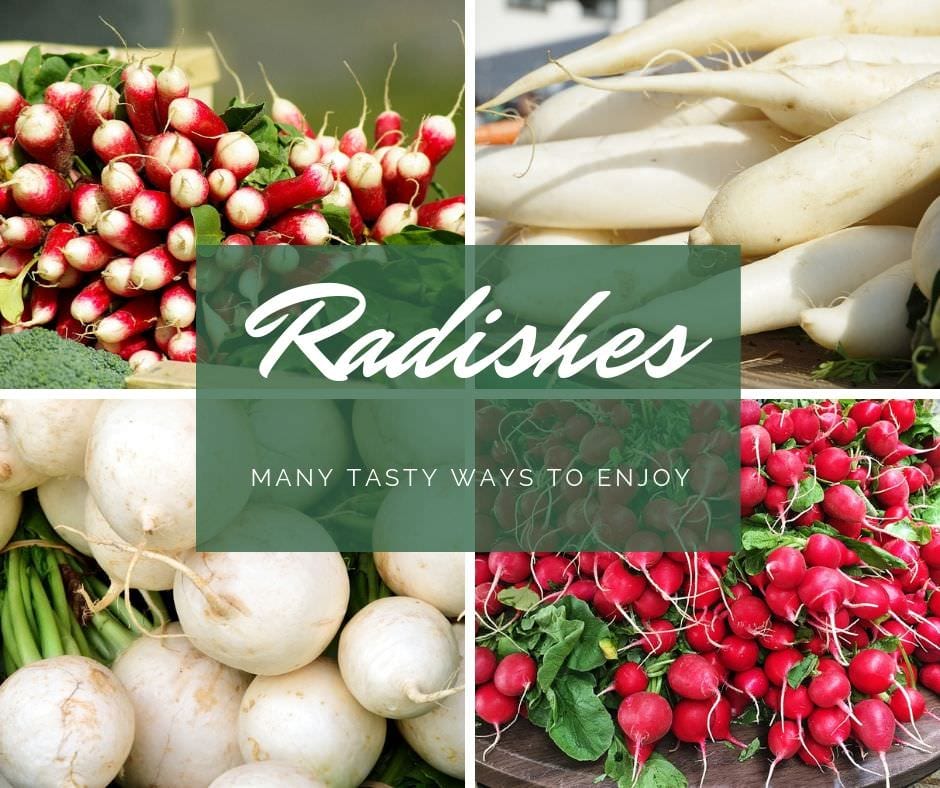 15 Radish Recipes to Break Out of the Salad Rut
Radishes are wonderful in salads. But with these Radish recipes, I show that there are so many tasty ways to enjoy these healthy little roots that it's time to free them from the salad bowl, at least for a while.
Most people think of radishes as small round red balls, but there are hundreds of varieties differing in length and color. Radishes are usually divided into 3 basic categories:
Garden, this is the type most often found in stores.
Winter, similar to garden but larger and grown to be harvested in Fall and stored over the Winter.
Daikon, an Asian variety that looks like a large white carrot.
All varieties are loaded with antioxidants, particularly vitamin C. Plus they are low in calories and high in fiber and a good source of folate, potassium, and riboflavin. They also contain compounds that help stimulate the liver and promote urination, making them excellent at detoxifying your body.
To store radishes, you want to separate most of the leaves from the bulb and store them separately. Wash the leaves thoroughly then spin dry and store tightly wrapped in a plastic bag. Toss them in a salad or cook them like other dark leafy greens.
Radish Juices and Smoothies
One of my favorite episodes of Curious George ends with George making the most incredible juice by adding radishes for something "a little bit spicy." I certainly wouldn't have thought to add it, but it is a healthy and delicious way to start your day.
Raw Radish Recipes
Besides tossing them in a green salad, raw radishes are delicious as the main focus of a side dish.
Pickled Radishes
Pickling is very simple to do, but it adds a complex flavor to many cuisines. I don't know what a Vietnamese sandwich would be without Do Chua, the traditional pickled daikon and carrot topping. And in many parts of Mexico, pickled radishes are a traditional garnish for tacos.
Fermented Radishes
Fermenting is like pickling, easy and adds a sour flavor to the vegetable. The difference is no vinegar is used; instead, the vegetable sits in brine and healthy naturally occurring bacteria create the tang (just like yogurt).
Fermented Rosemary Radishes (just swap sliced radishes for the carrots)
Roasted Radishes
Roasting root vegetables brings out their natural sugars. Just toss them with some good olive oil and fresh herbs and pop them in the oven. Simple and addicting.
Stewed and Braised Radishes
Slow cooking radishes in liquid, imparts their zesty flavor to the rest of the dish.
Other Radish Recipes
Finally, a few dishes that don't fit into the categories above but sound amazing.
Radish Fritters (grate the radishes and swap for the cauliflower starting in step 5)