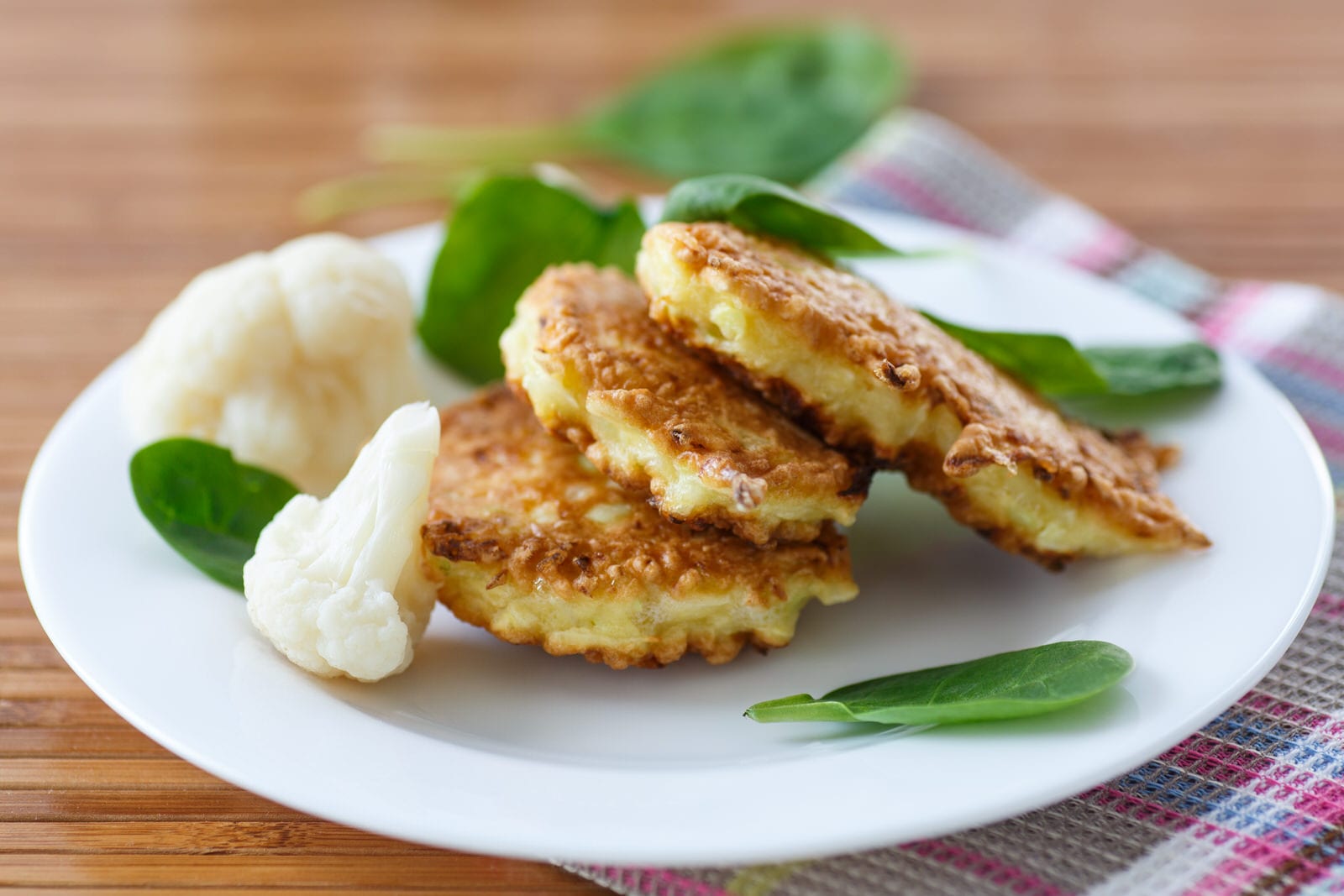 Gluten Free Cauliflower Fritters Using Organic Produce
These gluten-free cauliflower fritters are easy to make, healthy, and a great way to use cauliflower. Really delicious and appetizing.
Gluten Free Cauliflower Fritters Ingredients
1 large organic cauliflower head, cut into florets
1/2 cup gluten-free all-purpose baking flour
2 large eggs, lightly beaten
5 Tablespoons minced onions (some used for garnishing)
Olive oil
3 cloves garlic, minced
Directions
Bring water (salted) to a boil in a large pot.
Place the cauliflower in the boiling water and cook for 

3 to 5 minutes 

or until fork-tender.
Move 

cauliflower

 to a cutting board and cut it into minuscule pieces.
Measure 4 cups of the minced cauliflower.
Blend the cauliflower, gluten-free flour, garlic, eggs, onions, 1/4 teaspoon pepper, and 1/2 teaspoon salt in a bowl.
Using a nonstick skillet heat over medium-low heat and lightly coat with olive oil.
Ladle out 2 tablespoon heaps of the cauliflower mash into the skillet. Flatten each mound with a spatula and spacing 1 inch apart.
Cook the cauliflower fritters for 2 to 3 minutes and turn them over once and cook an additional 1 to 2 minutes until they are golden brown.
Move the fritters to a plate.
Serve warm and top with yogurt.
Always use organic fruits and vegetables in your recipes.
Do you live in one of these Southern California Cities? Aguanga, Fallbrook, Hemet, Homeland, Lake Elsinore, Menifee, Murrieta, Temecula, Wildomar, or Winchester.  If you do, you can use the local organic fruits and vegetables in our harvest deliveries for these recipes.
Other Great Recipes and Resources