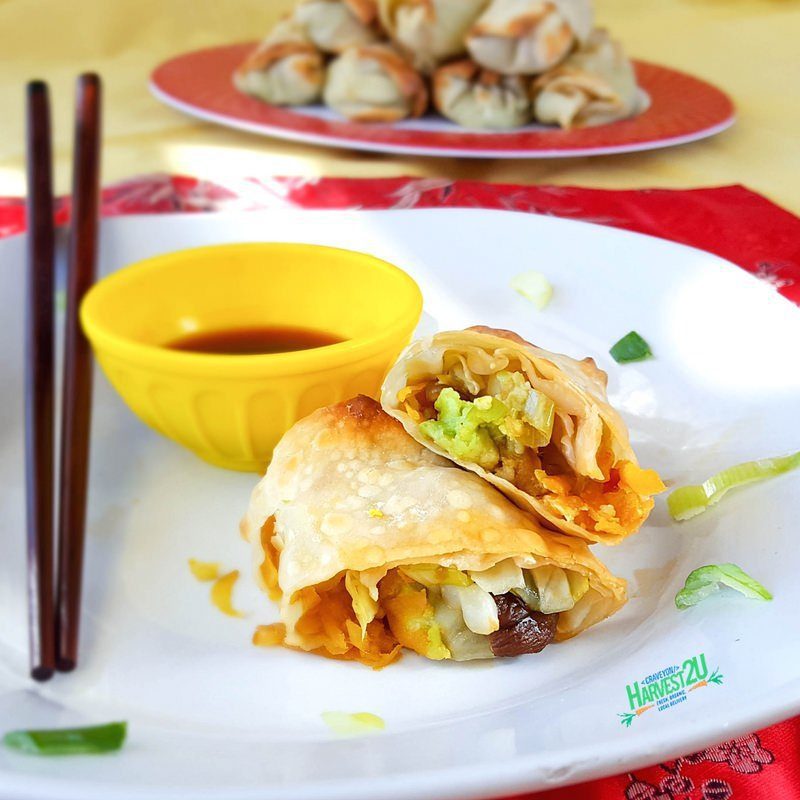 Baked Avocado and Vegetable Egg Rolls
This healthy vegetarian baked avocado and vegetable egg rolls recipe can be made with just about anything you happen to have on hand. The creamy avocado mixes nicely with the crunch of the shell and vegetables. But, the avocado does not reheat well, so only make enough to serve immediately. The sambal oelek in the sauce is a chili paste that can be found in the Asian food aisle of most grocery stores.
I baked these, but frying is actually not as unhealthy as you may think since they only need to fry for a few minutes to get crispy. Just follow the directions on the egg roll wrappers.
Baked Avocado and Vegetable Egg Rolls Ingredients
16 egg roll wrappers
2 ripe avocados, sliced into 8 pieces each
1-2 cups cabbage, shredded
1/2 cup shitake mushrooms sliced thinly (about 8)
2 carrots, shredded or cut into matchsticks
1-2 green onions, sliced thinly
1 tablespoon fresh ginger minced
non-stick spray
Spicy Dipping Sauce
1-2 teaspoons sambal oelek
1 cup tamari or low sodium soy sauce
2 tablespoon rice vinegar
Directions
Preheat oven to 425 degrees.
Spray a baking sheet with non-stick spray.
Place an egg roll wrapper like a diamond in front of you.
Layer the avocado and vegetables lengthwise in the center. Fold the bottom up, then sides in, then roll.
Place seam side down on a baking sheet.
Repeat with remaining egg rolls.
Spray with non-stick spray (or brush with olive oil).
Bake until crisp, about 10 minutes.
While egg rolls are baking, combine dipping sauce ingredients.
Serve immediately.
Always use organic fruits and vegetables in your recipes.
Do you live in one of these Southern California Cities? Aguanga, Fallbrook, Hemet, Homeland, Lake Elsinore, Menifee, Murrieta, Temecula, Wildomar, or Winchester.  If you do, you can use the local organic fruits and vegetables in our harvest deliveries for these recipes.
Resources and Recipes