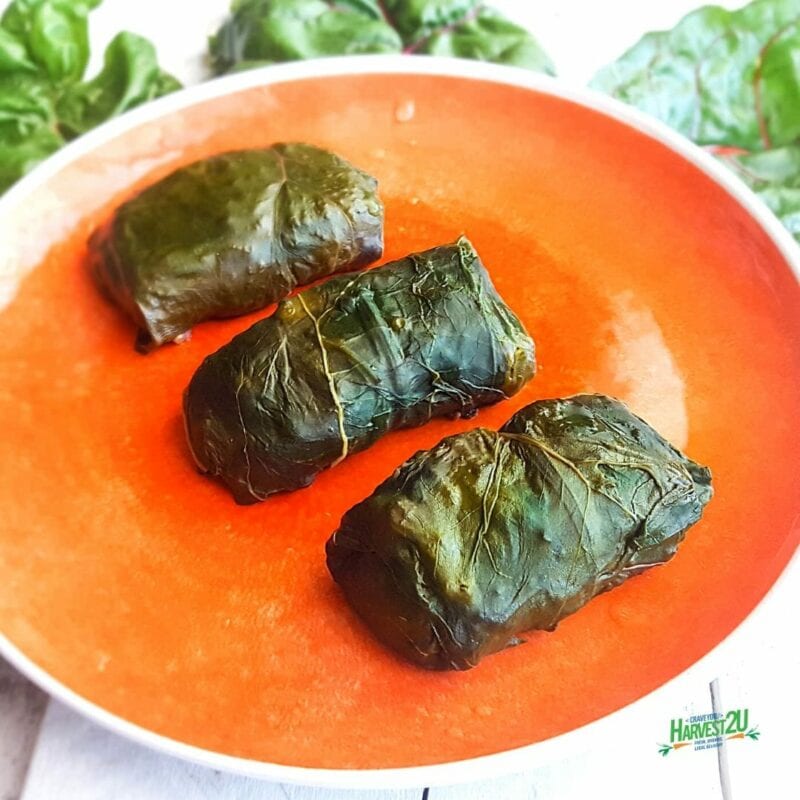 Swiss Chard Rolls – An Excellent Source of Vitamins
Swiss Chard Rolls are similar to Cabbage Rolls and Dolmades (Greek Stuffed Grape Leaves) but made with more tender chard instead of the tougher cabbage and grape leaves. To up the nutrition, this recipe uses quinoa instead of rice.
Swiss chard (aka rainbow chard), like all dark leafy greens, is an excellent source of vitamins A, C, E, and K as well as fiber, iron, magnesium, potassium, and calcium. Is it any wonder nutritionists are always encouraging us to eat more of them?
Since chard does not need to cook as long as cabbage or grape leaves be sure to cook the quinoa until almost done, otherwise you will have crunchy quinoa or overcooked unappetizing chard. If you do not want to go to the trouble of stuffing and rolling these, just chop up the chard and add it to the pan with the meat and quinoa towards the end of cooking.
Swiss Chard Rolls Ingredients
1/2 pound lean ground beef, turkey, or lamb
1/2 cup onion
2 tablespoons Greek or Italian seasoning
1/2 cup crushed tomatoes
3/4 cup uncooked quinoa
5-10 large Swiss chard leaves
1 tablespoon lemon juice
Directions
Heat a skillet to medium-high and cook the beef and onion until the meat is mostly browned and the onions are translucent about 5 minutes.
Stir in seasoning, tomatoes, and quinoa. Add 1 1/2 cups of water, cover, and lower heat to medium-low. Let simmer until water is absorbed and quinoa is cooked, about 15 minutes, stirring once or twice. If needed add additional water.
While the meat is cooking, fill a large saucepan with a few inches of water and bring to a boil. Depending on the size of the leaves, cut off the top 1/3rd then remove the stem from the bottom portion leaving you with 3 pieces about the size of your hand. Save the stems for another use.
Cook the leaves in the boiling water for 1 MINUTE. You just want to soften them. Quickly drain and rinse under cold water.
Preheat oven to 400 degrees.
To roll: Place a chard leaf in front of you on a clean flat surface. Add 1-2 tablespoons to the bottom center of the leaf. Fold in the sides, then roll. Place seam side down in an 8 or 9-inch square pan. If the leaves are too small or begin to tear, overlap two.
When all of the leaves are rolled, drizzle with lemon juice and add 1/2 cup of water to the pan. Cover with foil and bake until liquid is absorbed about 10 minutes.