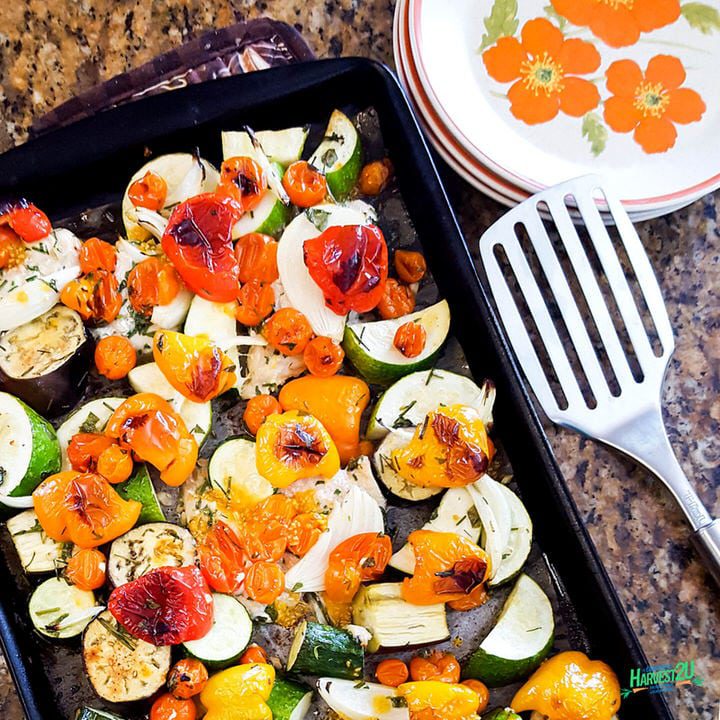 Sheet Pan Roast Chicken and Summer Vegetables
When summer heats up, this sheet pan roast chicken and summer vegetables make the perfect quick and healthy meal. Fresh herbs with chicken and seasonal vegetables roasted together in one pan for quick clean up.
The bright colors of summer vegetables like eggplant, summer squashes, and tomatoes are loaded with health-boosting antioxidants. Plus they have plenty of fiber and an assortment of vitamins and minerals.
You can serve sheet pan roast chicken as is for a low carb meal, or with your favorite grains such as rice or quinoa.
Sheet Pan Roast Chicken Ingredients
1/3 cup fresh herbs (basil, chives, oregano, parsley, etc.)
2-3 cloves garlic
1/4 cup olive oil
1 pound boneless chicken breasts or thighs
1 pound summer squash
1 pound Chinese or Italian eggplant
1 pint cherry tomatoes (or 2-3 tomatoes)
1/2 pound mini bell peppers any color (or 2-3 bell peppers)
1/2 yellow onion
Directions
Preheat oven to 425 F. Line a rimmed baking sheet with parchment paper.
Chop fresh herbs and garlic. In a large bowl combine herbs, garlic, and olive oil.
Pound chicken until evenly thick and add to the bowl with herbs and garlic.
Cut squash and eggplant into large chunks.
Cut onions into thin strips.
Cut mini bell peppers in half and remove seeds. If using large peppers and/or tomatoes cut into large chunks.
Add vegetables to the bowl and toss until coated.
Spread chicken, squash and eggplant on the baking sheet. Top with tomatoes, peppers, and onion.
Bake for 20-25 minutes until chicken is cooked.
FREE Weekly Video Recipe Series
Sign-up for our 30-second (all under a minute) video recipe series is designed to provide you with an easy way to use Harvest2U's locally grown organic produce.