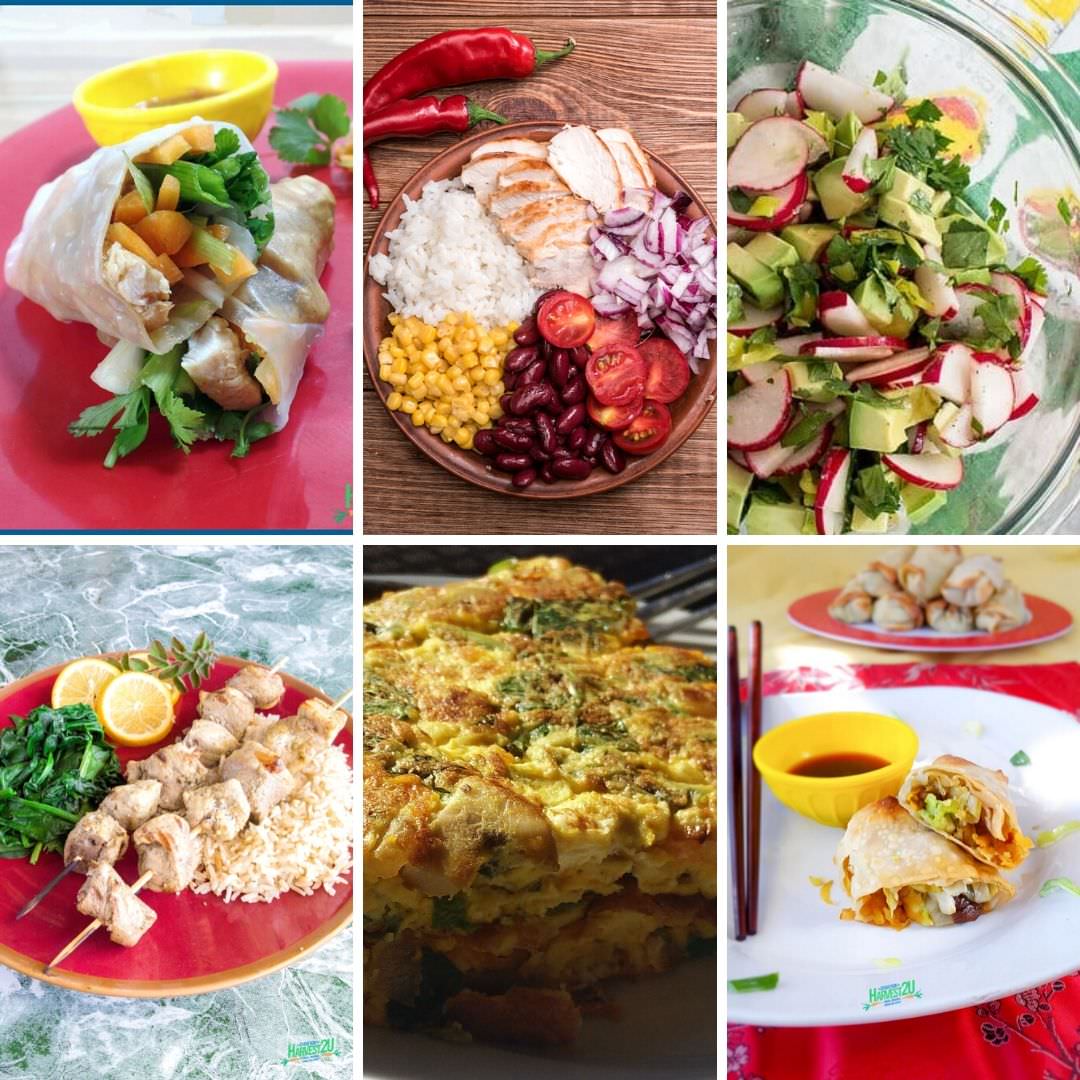 30 Minute Dinners – Healthy Alternatives to Fast Food
Here are ideas for 30 Minute Dinners recipes. Anyone with school-age children knows that things can get busy. Really busy with school and homework and practices and performances. And they want dinner every night!
Grabbing some fast food in between activities is an option, but that can break your bottom line and your waistline pretty quickly.
30 Minute Dinners – Examples
Fear not! Here are 12 easy recipes you can get on the table in about 30 minutes:
Chicken
Here's a great Asian Chicken Wraps recipe for leftover chicken, particularly on those "it's too hot or I'm too tired to cook" nights. Use whatever vegetables you have on hand, peppers, tomatoes, cabbage, sprouts, greens, etc.
This Grilled Lemon Herb Chicken Salad takes some of the best flavors of spring and grills them for a bolder flavor.

When summer heats up, this sheet pan roast chicken and summer vegetables make the perfect quick and healthy meal.
These mouthwatering chicken burgers only take less than 30 minutes to prepare.
Marinated grilled chicken, black beans, cilantro-lime rice, and diversity of fun toppings, this burrito bowl is loaded.
Beef and Pork
Switch it up a bit on Taco Tuesday. Try our Tacos Radish Avocado Salsa.
With just a few simple ingredients you can whip up this easy Sausage and Mushroom Pasta Sauce for a hearty flavorful meal for your family in less than 30 minutes.
This simple Lemon Oregano Kebabs marinade imparts a delicious flavor to pork or chicken.
This Sheet Pan Pork Chops and Garlic Broccoli is a healthy one-pan meal that can be ready in about 30 minutes.
Vegetarian
Start your morning right with a vegetable frittata. This one has nutrient-dense kale, purple cabbage and a kick of red pepper.
This light and healthy Foil Packet Lemon Tomato Fish Fillet recipe will show you how simple it can be.
This healthy vegetarian baked avocado and vegetable egg rolls recipe can be made with just about anything you happen to have on hand.
With all of these healthy choices, preparing a healthy 30 Minute Dinners for the first few weeks of school should be a breeze.
Audrey Humaciu, the creator of many of the recipes on Harvest2U, also has a free eguide with 10 weeknight fast meals for subscribing to her newsletter.