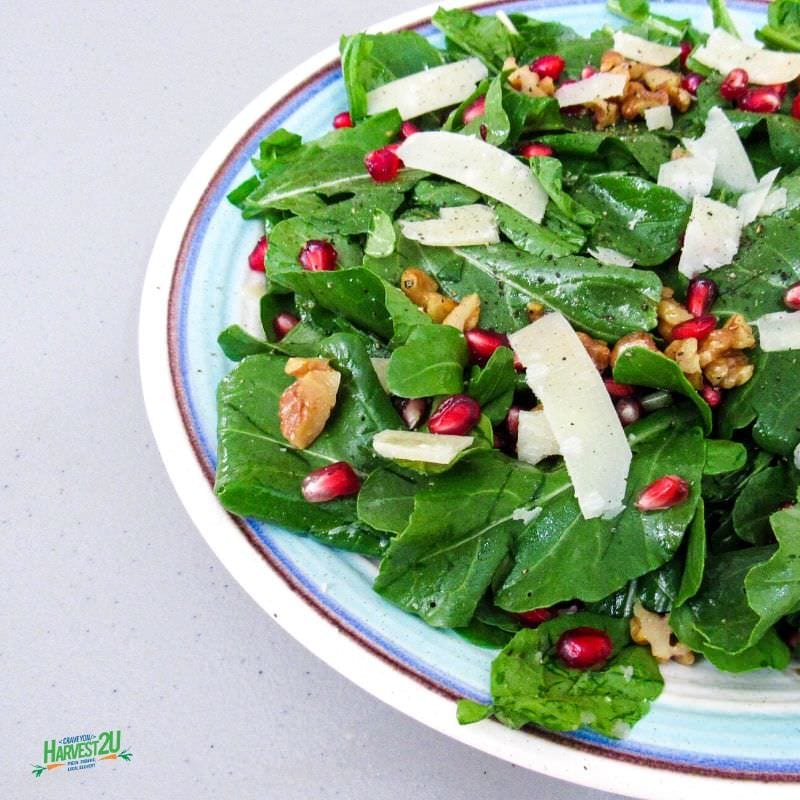 Arugula Pomegranate Salad with Pineapple Vinaigrette
Colorful Arugula Pomegranate Salad is a bright and flavorful salad loaded with healthy fats and antioxidants.
Pomegranates are loaded with antioxidants like vitamin C and polyphenols, which do wondrous things for your health, such as protecting you from cancer and heart disease as well as acting as an anti-inflammatory to help with arthritis. Eating the whole aril, including the inner seed, will also provide extra fiber.
Pomegranates have been known for its health benefits since ancient times. These bright red fruits are considered a superfood today because of their powerful nutrition and antioxidants. We look forward to them every Fall.
Arugula Pomegranate Salad Ingredients
1 bunch arugula, cleaned and cut in bite-sized pieces
1/2 cup pomegranate arils
1/4 cup toasted walnuts, chopped
Pineapple Vinaigrette (below)
shaved Parmegiano Reggiano cheese
salt and pepper to taste
Pineapple Vinaigrette Ingredients
1/4 cup pineapple juice
1/2 cup extra virgin olive oil
1 tablespoon honey
Directions
Place arugula in a salad bowl. Add walnuts and pomegranate arils.
Whisk together vinaigrette ingredients and pour over salad.
Top with shaved Parmegiano Reggiano and salt and pepper.