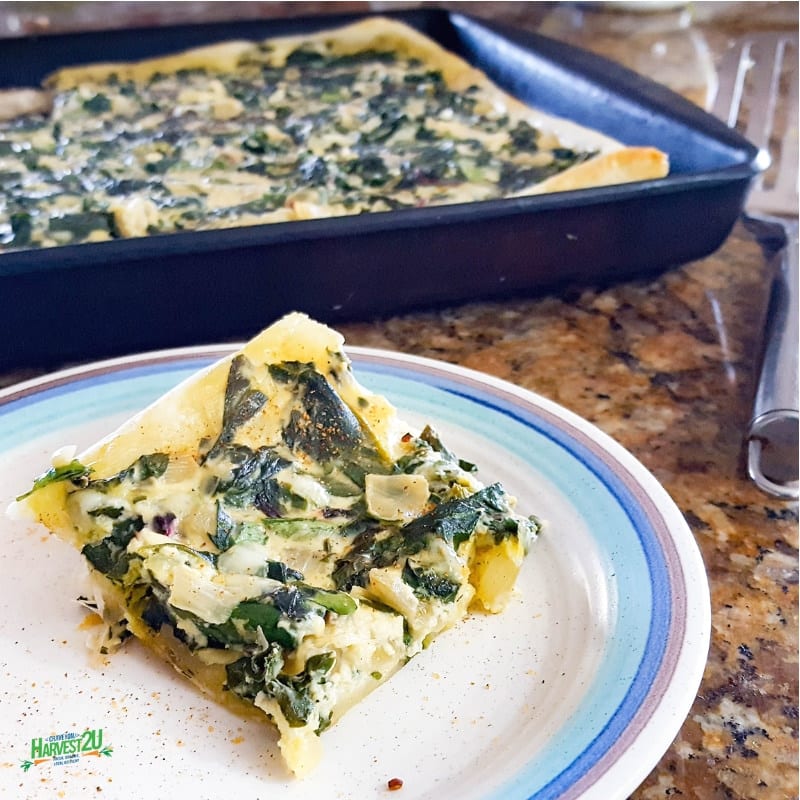 Mixed Greens Tart – Fiber, Iron, and Antioxidants
This Mixed Greens Tart is perfect for an appetizer or brunch and makes an ideal side dish for lunch or dinner.
Leafy dark organic green vegetables are considered one of the most potent cancer-preventing foods. They are loaded with fiber, iron, and antioxidants, with no fat and minimal sodium.
Use your favorite greens, or maybe a combination of two or three to make this Mixed Greens Tart. I used some Swiss chard and beet greens, but you could also use kale or spinach or mustard greens, etc.
If you want to make this ahead of time, prepare the filling up to a day in advance and then finish just before serving.
Mixed Greens Tart Ingredients
8 ounces greens (Swiss chard, kale, spinach, mustard greens, etc.)
1 tablespoon olive oil
1/2 yellow or white onion, diced
2-3 cloves garlic, minced
2 eggs
1/2 cup plain Greek yogurt
1/2 cup grated cheese (Swiss, Gruyere, Parmesan all work well)
1/4 cup fresh parsley (or other herbs), chopped
pepper sauce to taste
1 9×14 roll puff pastry
Directions
Preheat oven to 425 degrees. Roll out puff pastry on a rimmed baking sheet and set aside.
Remove thick stems from greens (if needed) and roughly chop the leaves.
In a large skillet heat olive oil over medium. Saute onions and garlic until translucent, 3-4 minutes.
Add greens and cook until soft, another 5 minutes or so.
In a medium bowl combine cooked greens, eggs, yogurt, cheese, parsley, and pepper sauce.
Spread mixture on the puff pastry.
Bake until crust is golden, about 10 minutes. Slice and serve.
Always use organic fruits and vegetables in your recipes.
Do you live in one of these Southern California Cities? Aguanga, Fallbrook, Hemet, Homeland, Lake Elsinore, Menifee, Murrieta, Temecula, Wildomar, or Winchester.  If you do, you can use the local organic fruits and vegetables in our harvest deliveries for these recipes.
Resources and Recipes