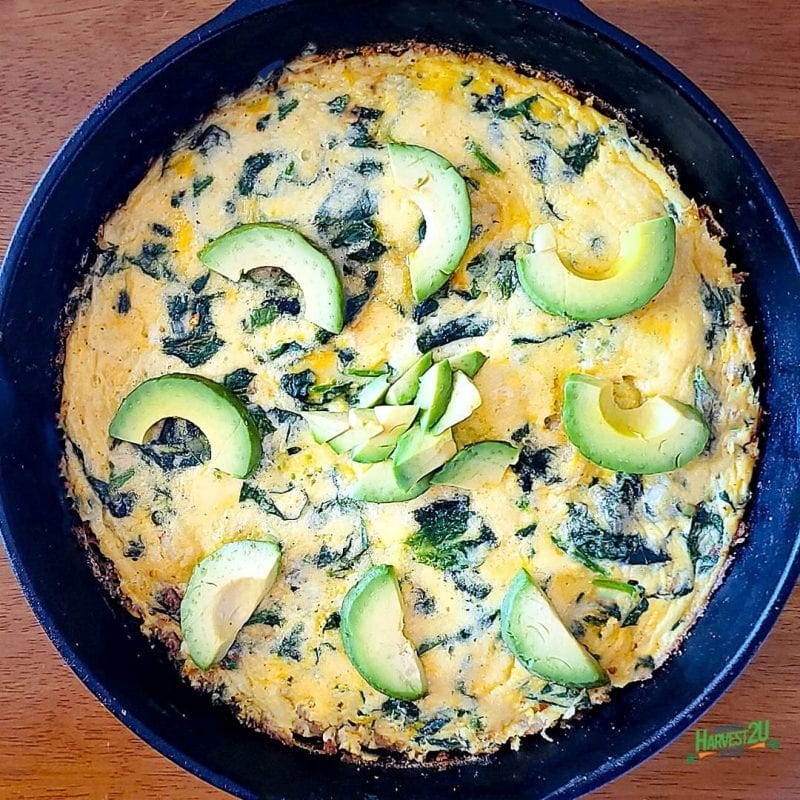 Spinach Shrimp Frittata – A Quick One-pan Meal
Spinach Shrimp Frittata is a quick one-pan meal that is delicious for breakfast, brunch, or a vegetarian dinner.
This recipe uses tender Spring organic spinach, but you can swap other greens such as kale, turnip, or mustard greens. Dark green leafy vegetables are a vital part of a healthy diet. They are loaded with fiber, folate and carotenoids, vitamins C and K, and minerals iron and calcium.
For extra color and some heart-healthy fats and other nutrients, as well as fantastic taste, add some sliced avocado on top just before serving.
Spinach Shrimp Frittata Ingredients
5 eggs
1 cup milk (any kind)
salt and pepper to taste
1 tablespoon olive oil
8 ounces raw shrimp, cut into bite-sized pieces
4-6 ounces fresh spinach, cut in bite-sized pieces if needed
2 ounces Parmesan cheese, grated
1 avocado, sliced (optional)
Directions
Preheat oven to 350 F.
In a medium bowl mix eggs, milk, salt, and pepper. Set aside.
Heat an oven-proof skillet over medium heat. Add olive oil and coat the bottom of the pan.
Cook shrimp until turning pink, about 2 minutes. Add spinach and cook until wilted, 2-3 minutes. Remove from heat and quickly stir in eggs and cheese.
Immediately move the skillet to the preheated oven (use a potholder!) and cook until eggs are set on top.
Serve with avocado slices on top if desired.