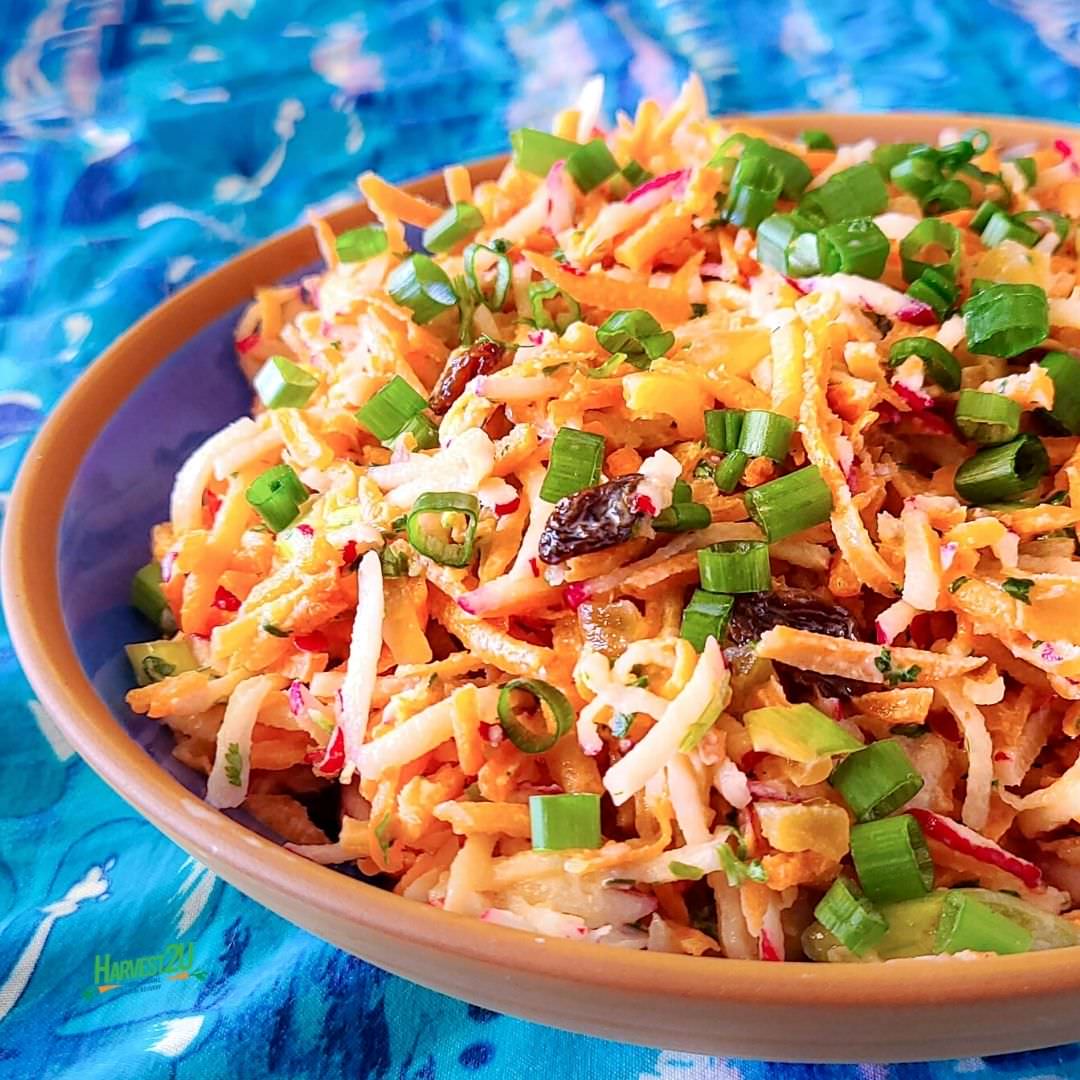 Carrot Radish Salad – Loads of Nutrients
Carrot Radish Salad is a crunchy, colorful salad with a refreshing mix of flavors and loads of nutrients.
The phytonutrients that give carrots and radishes their vibrant colors also provide us with protection against chronic diseases. Lutein and alpha and beta carotenes in the carrots protect our eyes. Simultaneously, the radishes get their color from lycopene and anthocyanins, which protect our hearts, strengthen our immune system and prevent cancer. Mix in other colors of carrots and radishes than traditional orange and red for more color and different nutrients.
Add in some vitamin C from the lime peel and juice plus some healthy gut bacteria in the yogurt, and you can see how nutritious the salad is.
Carrot Radish Salad Ingredients
Dressing
1/2 cup plain Greek yogurt
1/2 cup fresh cilantro
1 teaspoon honey, more or less to taste
1 lime
Salad
3-4 medium large carrots
1 bunch radishes, greens and tap root removed
3-4 green onions, thinly sliced
1/3 cup raisins or chopped dried mangoes or other dried fruit
salt and pepper to taste
Directions
In the small bowl of a food processor or a blender, add yogurt, cilantro and honey. Zest the lime then cut in half. Add zest to the bowl and squeeze in the juice from the lime halves. Pulse a few times until the cilantro is mostly chopped up and in small bits.
Grate the carrots and radishes with the food processor or a box grater.
Add all of the salad ingredients to a medium bowl.
Stir in the dressing.
Let chill at least 1 hour.
Adjust seasoning as needed before serving.
Always use organic fruits and vegetables in your recipes.
Do you live in one of these Southern California Cities? Aguanga, Fallbrook, Hemet, Homeland, Lake Elsinore, Menifee, Murrieta, Temecula, Wildomar, or Winchester.  If you do, you can use the local organic fruits and vegetables in our harvest deliveries for these recipes.
Resources and Recipes