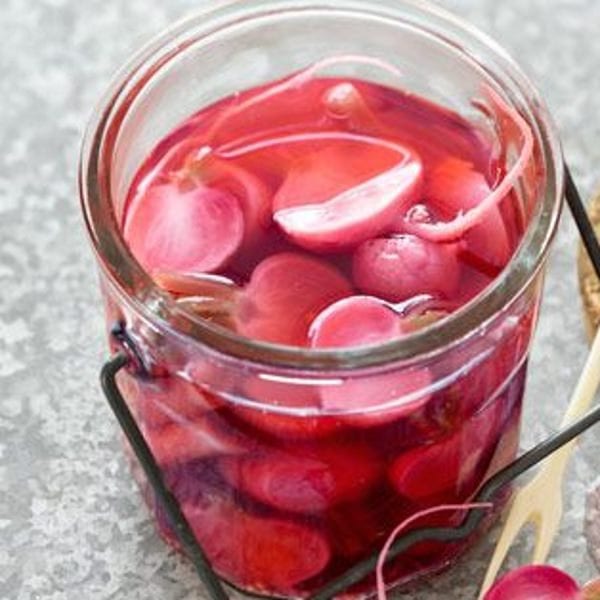 Pickled Radishes – A Delicious Way to Store This Wonderful Vegetable
You can place radishes on everything because they lend a lovely bite without overpowering other flavors like, say, raw onions can. Pickled Radishes pack a spicier, vinegary punch. These crisp, spicy pickled radishes are super easy to make and liven up everything from tacos, burgers, salads, toast, sandwiches and more.
Radishes are packed with Vitamins A, E, C, B6, and K. Plus it's high on antioxidants, zinc, fiber, phosphorous, potassium, magnesium, copper, iron, manganese, and calcium.
Note: You can substitute Jalapenos, Beets, etc. for the Radishes.  Also, you can substitute Coconut Aminos for the Apple Cider Vinegar.
Pickled Radishes Ingredients
1 bunch of radishes (4 to 5), greens and tap root (optional) removed
1/2 Red Onion
3 Garlic Cloves
Peppercorns
1/2 cup Apple Cider Vinegar
1/4 cup Coconut Vinegar
1 cup Water
Salt
Red Pepper Chili Flake
Palm Sugar (if sweet)
Any other spices
Clean Mason Jars
Directions
Add vinegars, salt, peppercorns, and other spices to a small saucepan with the vinegars. Bring to a boil and simmer for 5 minutes.
Slice Radish in half or in rounds (your choice) and place in the jar,
Pour the mixture over the Radishes.
Put the lid on the jar and allow to cool. You will eventually hear a pop from the lid… this is a good thing!
Once the jar is cool, place in the refrigerator. You can enjoy in as little as an hour, but overnight works best if you can wait that long!
Always use organic fruits and vegetables in these recipes.
Do you live in one of these Southern California Cities? Aguanga, Fallbrook, Hemet, Homeland, Lake Elsinore, Menifee, Murrieta, Temecula, Wildomar, or Winchester.  If you do, you can use the local organic fruits and vegetables in our harvest deliveries for these recipes.
Other Great Recipes and Resources
---
 Faith Sands is the author of this recipe
Faith is the Owner of the website Sands Home Ventures. It is about the Faith family. Jason, Faith, and William. This site is a collection of what makes her family's house a home. From recipes (everything is gluten free!) to crafts and antiques that come their way. This is their platform to share (and some items to sell).
Like Recipe Videos? Check out our Weekly Video Recipe Series. Recipe Videos