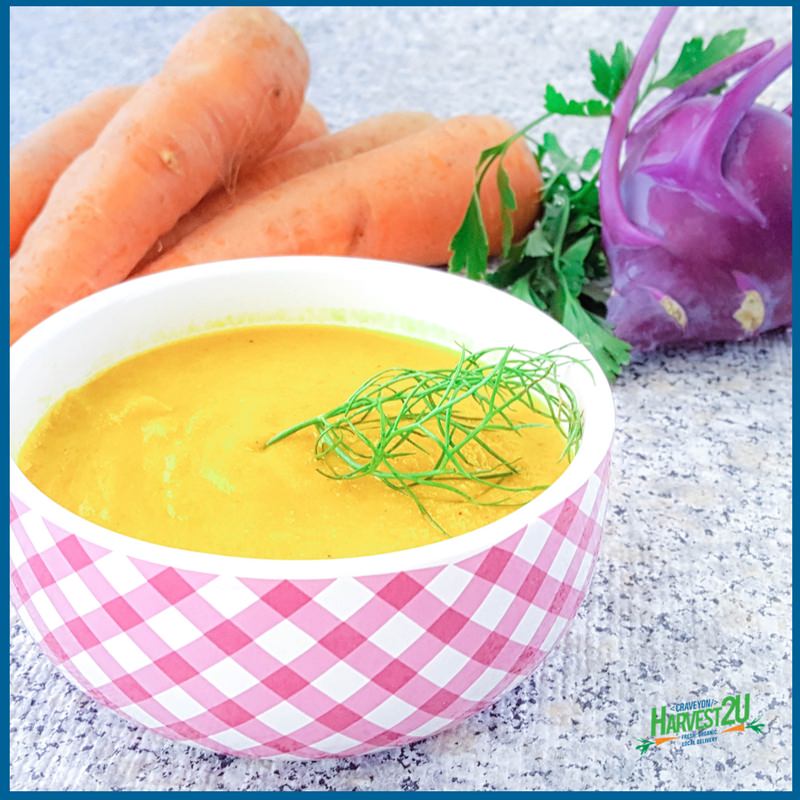 Carrot Kohlrabi Soup – Perfect for Cold Winter Nights
This Carrot Kohlrabi Soup is a healthy vegetarian soup perfect for cold winter nights. Cooking the vegetables in the olive oil for 7-8 minutes before adding the broth helps roast the vegetables bringing out their sweetness.
Save the fennel stalks for another recipe (like homemade stock), use the white part in the soup and top with some of the fronds. If you don't have a fennel bulb, you can substitute a chopped onion and garlic for some added flavor.
Carrot Kohlrabi Soup Ingredients
3-4 cups carrots, peeled and cut into chunks
1-2 cups kohlrabi, peeled and cut into chunks
1 fennel bulb, cut into large pieces (core removed, fronds saved for serving)
1 tablespoon olive oil
1-quart vegetable stock
2 bay leaves
2 tablespoons fresh parsley chopped
add sea salt to taste
Directions
Heat olive oil in a large pot over medium-high. Add fennel and cook for 2 minutes until beginning to turn translucent.
Add carrots and kohlrabi and cook for 7-8 minutes.
Add vegetable stock, bay leaves and parsley. Bring to a boil – reduce to a simmer.
Cook until vegetables are soft. Remove bay leaves.
Puree with an immersion blender, blender or food processor. Add salt to taste.
Serve with fennel fronds on top.
See more soup recipes »
---
The chef Audrey Humaciu created this recipe for Harvest2U.
Audrey is the Editor in Chef at That Recipe and VP of Creativity and Sarcasm at Munofore. When she's not blogging about her eclectic interests from cooking and crafting to ornamental horticulture and the idiosyncrasies of the American language, she's just your typical 40 something mom livin' the life in the California burbs… without the minivan and overpriced coffee.
Like Recipe Videos? Check out our Weekly Video Recipe Series. Recipe Videos
Always use organic fruits and vegetables in these recipes. Local source: Harvest2U, a Temecula Organic produce company.