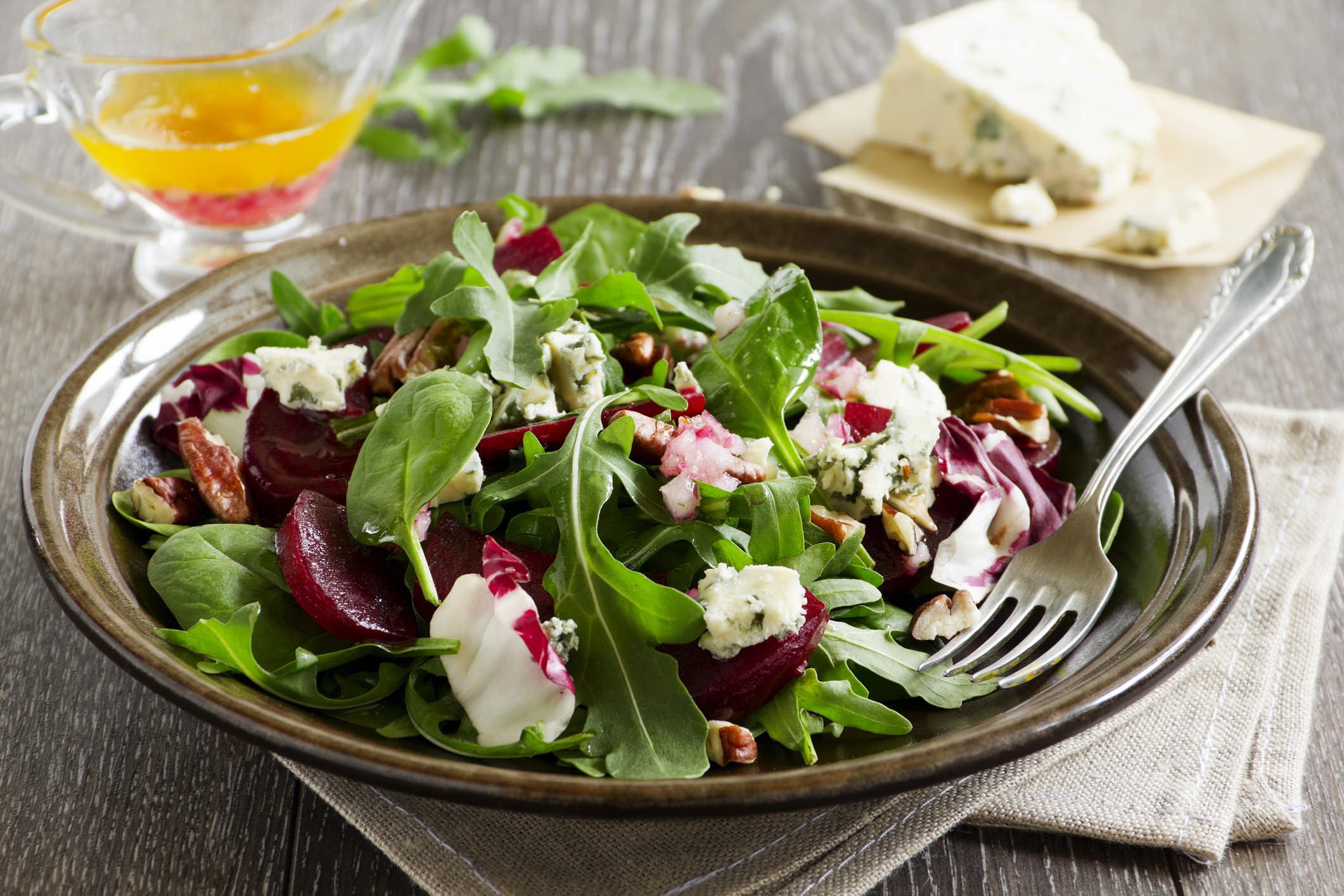 Kohlrabi Kale Beet Salad – Immense Body-Wide Benefits
This Kohlrabi Kale Beet Salad creates a salad rainbow! The texture and taste of kohlrabi are comparable to those of a broccoli stem or cabbage heart, but sweeter and milder, with a higher ratio of flesh to skin. The young stem, in particular, can be as crisp and juicy as an apple, although much less sweet. What an amazing flavor combination with kohlrabi, raw beets, and all the rest. Just check out these ingredients. Here's an excellent way to try beets – for those who think you don't like them.
Kohlrabi is rich in vitamins C, A, and K, as well as B-vitamins. It also contains manganese, copper, potassium, iron, calcium, and dietary fiber, and is rich in antioxidant compounds like carotenes and phytochemicals as well. With this generosity of nutrients, it's not unexpected that kohlrabi offers immense body-wide benefits
Kohlrabi Kale Beet Salad Ingredients:
1 Kohlrabi
One Kale
One bunch Lettuce or spring mix and/or spinach
Grapefruit
Anaheim pepper
4 tbsp Olive Oil
Beet
1 teaspoon Dijon mustard
2 carrots
½ teaspoon kosher salt
Sunflower seeds or pepitas
tbsp local honey
¼ teaspoon freshly ground pepper
Directions:
Always wash your veggies. Remove stems from the kale, knead the leaves with your hands and chop into bite-sized pieces. Chop the lettuce into bite-sized pieces. Peel the kohlrabi, beet, and Anaheim pepper, and chop them into thin, manageable pieces. Don't peel the carrots, but wash them really well and cut them into long strips.
Peel and remove sections from ½ of the grapefruit.
Combine juice from ½ grapefruit, 4 tablespoons Temecula Olive Oil, 1

teaspoon Dijon mustard,

1 tablespoon honey,

¼ teaspoon freshly ground pepper, and

½ teaspoon kosher salt, in a jar. Cover the jar and shake the heck out of it.
Serve on plates or bowls. Serve topped with grapefruit vinaigrette and pepitas or sunflower seeds.
Always use organic fruits and vegetables in your recipes.
Do you live in one of these Southern California Cities? Aguanga, Fallbrook, Hemet, Homeland, Lake Elsinore, Menifee, Murrieta, Temecula, Wildomar, or Winchester.  If you do, you can use the local organic fruits and vegetables in our harvest deliveries for these recipes.
Resources and Recipes