Roasted Beet and Kohlrabi Salad – An Earthy Cool-season Dish
Roasted Beet and Kohlrabi Salad makes an easy cool-season salad.
Kohlrabi isn't pretty and a little out of this world alien-looking, but it's sure easy to love.
Pale green or reddish, the little alien-shaped vegetable is delicious both raw and cooked; its flavor is suggestive of broccoli without the bite. The name is German for "cabbage turnip," and like both fall and winter (in Southern California) vegetables, it's in high season right now.
When roasted, kohlrabi becomes tender with a pleasant nutty flavor and makes a great partner to beets, also at their seasonal peak. Beets with their sweet earthy flavor, bring contrast and flavor to brighten up this Roasted Beet and Kohlrabi Salad.
Roasted Beet and Kohlrabi Salad Ingredients
1 bunch of red or golden beets (about 3 to 4)
Salad greens for the base
1 large or 3 small Kohlrabi
salt and pepper to taste
Everything Bagel Seasoning to taste
Pistachios (enough to sprinkle on salad)
Salad Dressing Ingredients
1/3 cup avocado or olive oil
2 Tbsp Braggs apple cider vinegar
2 Tbsp honey
1 Tbsp Dijon mustard
1/2 teaspoon salt
1/4 teaspoon cracked black pepper
Directions
Dressing and Salad
Mix salad dressing ingredients
Mixed salad greens 🥬 and mix in the dressing
Chill in the fridge (optional)
Beets and Kohlrabi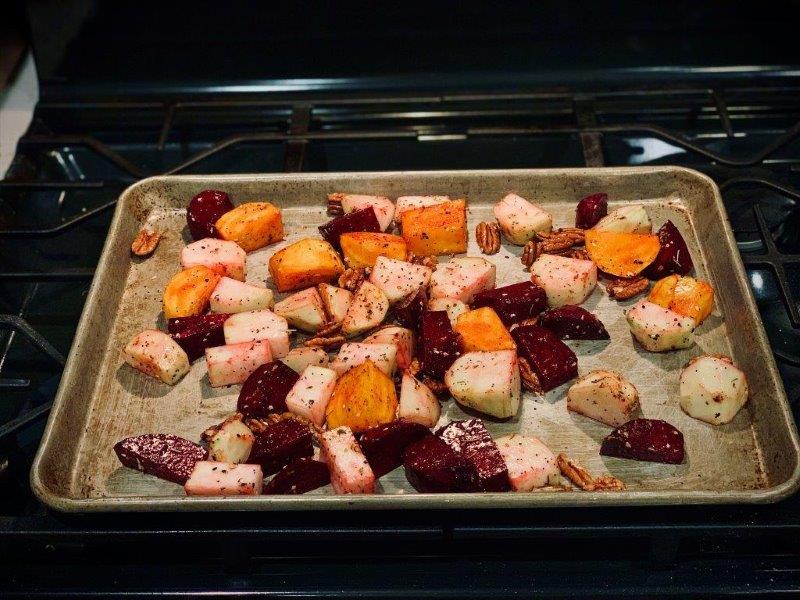 Peel and cut Beets into 1-2" cubes.
Peel and cut Kohlrabi into 1-2" cubes.
Tossed in 2 Tbsp Olive Oil seasoned with salt and pepper and everything bagel seasoning.
Roast on a foil-lined cookie sheet at 425 degrees for 20 mins tossing once halfway through.
Removed from oven and let cool to room temperature.
Place a bedding of the greens (with dressing) on each plate and top with a mixture of beets and kohlrabi sprinkle with pistachios.
Always use organic fruits and vegetables in your recipes.
Do you live in one of these Southern California Cities? Aguanga, Fallbrook, Hemet, Homeland, Lake Elsinore, Menifee, Murrieta, Temecula, Wildomar, or Winchester.  If you do, you can use the local organic fruits and vegetables in our harvest deliveries for these recipes.
Resources and Recipes