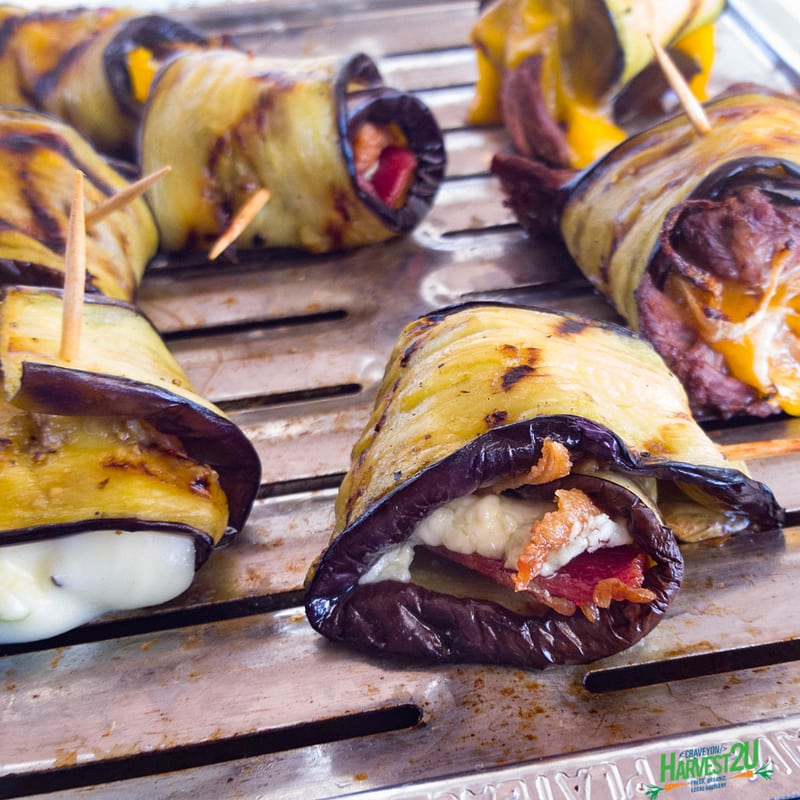 Grilled Eggplant Roulades – A Fun Way To Serve Eggplant
Grilled Eggplant Roulades are a fun way to serve eggplant. You can use skinnier Italian or Asian eggplant for appetizers while the larger globe eggplants would be great for the main course. Fill them all the same or make several varieties for different tastes.
I filled the Eggplants 3 different ways:
cooked bacon and blue cheese
cheddar cheese, cooked roast beef, and grilled onions
salsa and Monterey Jack cheese
Eggplant is a member of the nightshade family, a cousin of the tomato. They are loaded with fiber, potassium, and vitamins C and B6 all of which help heart and gut health. And, that beautiful purple color gives you a boost of anthocyanins, antioxidants that could help prevent cardiovascular disease and cancer.
This grilled eggplant recipe is a great way to serve leftovers, so get creative with the leftover chicken or stuffing or whatever is in the fridge. Choose ingredients that will roll easily but not ooze out of the eggplant too much. For example, sliced-cheese will work better than grated.
Grilled Eggplant Roulades Ingredients
eggplant
olive oil
salt and pepper
fillings such as cheese, cooked meats, salsa, pizza sauce, nuts, olives, etc.
Directions
Slice the top off of the eggplant then cut into 1/4″ slices lengthwise.
Brush both sides with olive oil and add salt and pepper to taste.
Grill over medium heat for 2-3 minutes a side to get some nice grill marks and soften the eggplant.
Add the fillings to each slice of eggplant, leaving the final third with nothing on it. Roll it up and secure it with a toothpick. Place on a broiler pan.
Heat all of the rolls back on the grill or in the broiler for about 5-7 minutes to heat the ingredients and melt any cheese.
Serve immediately.