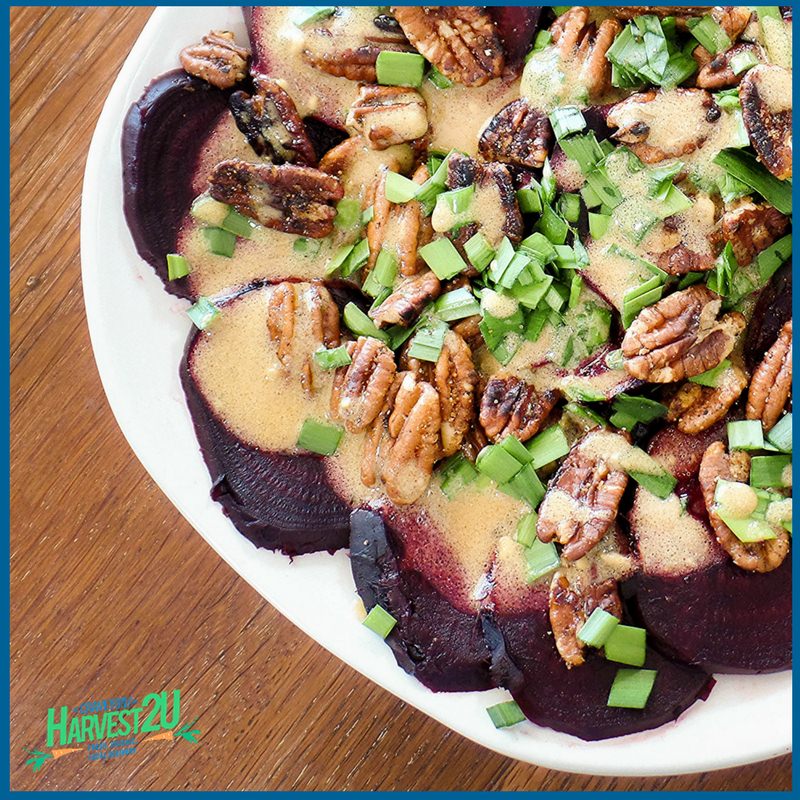 Roasted Beet and Pecan Salad with Honey Mustard Vinaigrette
This simple Roasted Beet and Pecan Salad makes a very striking presentation and is loaded with healthy goodness. The nuts and olive oil provide a good dose of unsaturated fats. The beets are high in fiber, vitamin C, potassium, and manganese. I like to roast my beets the night before and let them chill in the refrigerator until I am ready for them. The peel and stems slide right off when it is time to prepare the salad.
Roasted Beet and Pecan Salad Ingredients
For the Salad
4-5 medium beets
1 small bunch chives
1 tablespoon olive oil
½ cup pecans (or walnuts)
1 teaspoon Cajun seasoning (optional)
For the Vinaigrette
1 tablespoon Dijon mustard
2 tablespoons lemon juice
1 tablespoon red wine vinegar
1 teaspoon honey (optional)
1/3 cup olive oil
Directions
Prepare the Beets
Trim the tops off the beets and save for another use.
Trim off the long taproot.
Wrap with foil and place on a rimmed baking sheet.
Bake at 350 degrees for one hour. Let cool.
Slough off peel and stem, using the foil to scrub gently if necessary.
Slice beets thinly and arrange on a serving plate, or individual plates if desired.
Prepare the Nuts
In a skillet heat 1 tablespoon olive oil over medium-low heat.
Add nuts and toast for 2-3 minutes.
Sprinkle with Cajun seasoning if desired.
Remove from heat.
Prepare the Vinaigrette
In a small bowl whisk together lemon,

 

mustard, juice, and vinegar.
Slowly whisk in 1/3 cup olive oil.
Assemble the Salad
Chop chives and sprinkle on top of the beets.
Sprinkle with the nuts.
Drizzle with vinaigrette.