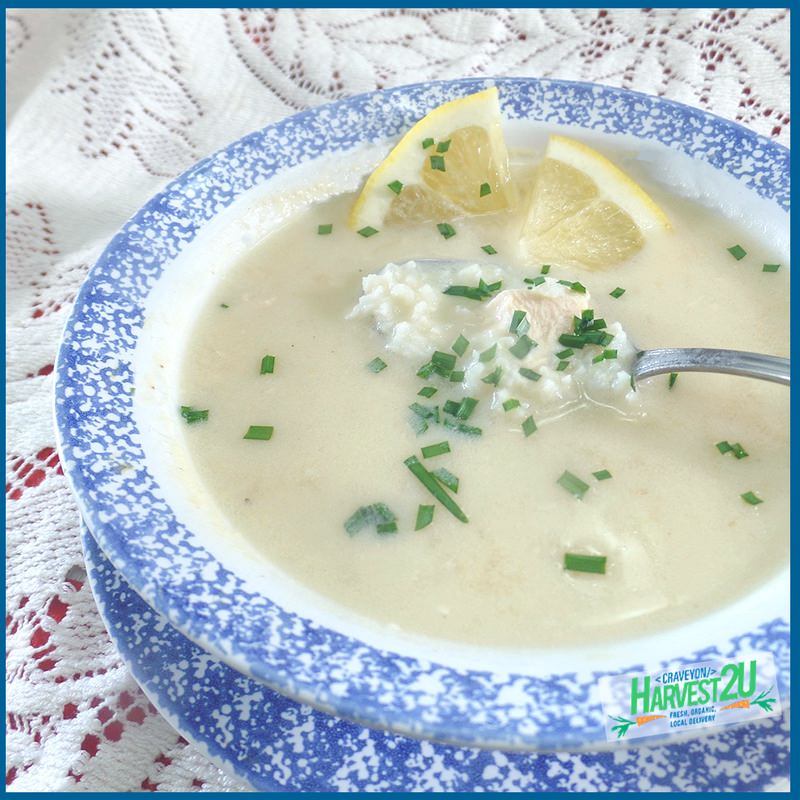 Avgolemono – Nutritious Chicken and Rice Soup
Avgolemono is Chicken and Rice Soup with a twist, literally. The lemon, bay, and cloves add a wonderful aromatic flavor. Plus you get a nice dose of vitamin C, B-complex, and potassium. The eggs thicken the broth and make the soup creamy without the dairy.
Chicken and Rice Soup Ingredients
1 lemon, zest removed and juiced to get ¼ cup juice
8 cups chicken broth
½ cup long-grain white rice *
12 ounces chicken breast chopped into ½ inch cubes.
1 bay leaf
2 whole cloves
1 teaspoon salt
2 large eggs, at room temperature
1 scallion, or fresh chives or mint, chopped
Directions
Remove the zest (yellow part) from one lemon with a vegetable peeler or zester. Squeeze the lemon to get ¼ cup lemon juice.
In a large stockpot, bring chicken broth to a boil. Add rice, lemon zest, bay leaf, cloves, and salt. Cook over medium heat for 20 minutes.
Remove the lemon zest, bay leaf, and cloves.
In a medium bowl, whisk together eggs and lemon juice. While constantly whisking, slowly add 1 cup of the hot soup broth to the eggs (otherwise the eggs will curdle instead of mixing with the soup).
Add the egg mixture back into the soup and cook over medium until the soup is slightly thickened about 5 minutes.
Serve immediately with chopped scallion, chives or mint.
* To substitute brown rice for white, cook in the broth for 25 minutes before adding remaining ingredients and cooking for 20 more minutes.
Always use organic fruits and vegetables in your recipes.
Do you live in one of these Southern California Cities? Aguanga, Fallbrook, Hemet, Homeland, Lake Elsinore, Menifee, Murrieta, Temecula, Wildomar, or Winchester.  If you do, you can use the local organic fruits and vegetables in our harvest deliveries for these recipes.
Other Great Recipes and Resources