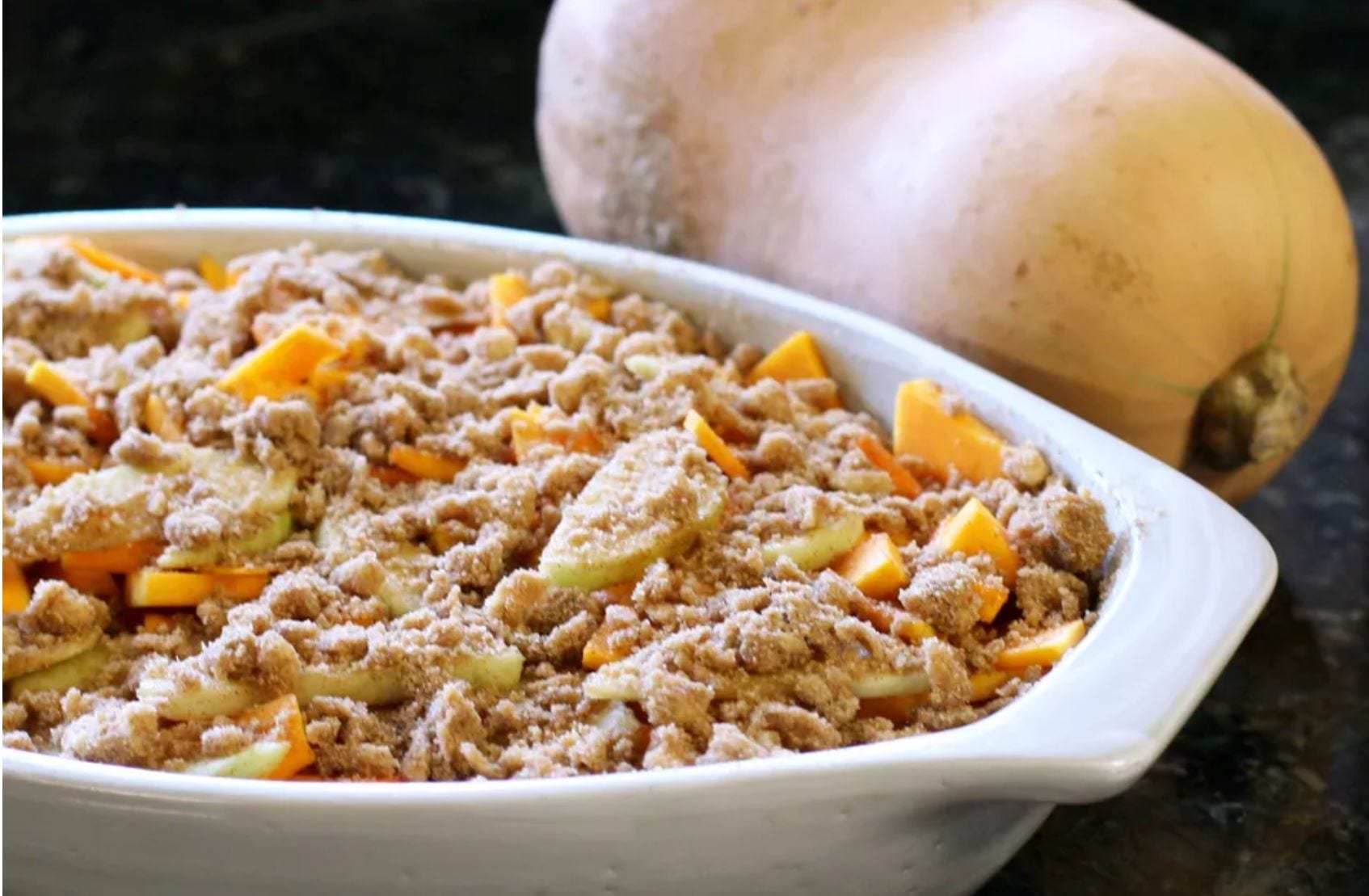 Butternut Squash Apple Casserole – Excellent Side Dish
Our Butternut Squash Apple Casserole will leave you wanting more.
This butternut squash apple casserole is an excellent side dish for your fall meals or holiday dinner. You'll top it with a spiced buttery crumble.
Butternut squash is low in calories yet high in many nutrients, including vitamin C, vitamin A, potassium, and magnesium.
Apples are extremely rich in essential flavonoids, antioxidants, and dietary fiber. The antioxidants and phytonutrients in apples may help reduce the risk of developing hypertension, diabetes, cancer, and heart disease. 
Butternut Squash Apple Casserole Ingredients:
One butternut squash (2 to 2 1/2 lbs)
Two apples
1/2 cup brown sugar
1/4 teaspoon cinnamon
1/4 teaspoon nutmeg
Four tablespoons butter, cold
1 tbs flour
1 tsp salt
Directions:
Heat oven to 350°. Butter your favorite 2-1/2 quart baking dish.
Peel your squash. Remove seeds and cut into small slices.
Peel the apples and also cut into thin slices.
Combine the squash and apples into your prepared baking dish.
In a small bowl, mix flour, salt, brown sugar, cinnamon, and nutmeg; using a fork, mix in the butter until crumbly.
Sprinkle crumbs over the squash and apples.
Cover and bake at for 50 to 60 minutes, or until the squash is tender.
Always use organic fruits and vegetables in your recipes.
Do you live in one of these Southern California Cities? Aguanga, Fallbrook, Hemet, Homeland, Lake Elsinore, Menifee, Murrieta, Temecula, Wildomar, or Winchester.  If you do, you can use the local organic fruits and vegetables in our harvest deliveries for these recipes.
Resources and Recipes