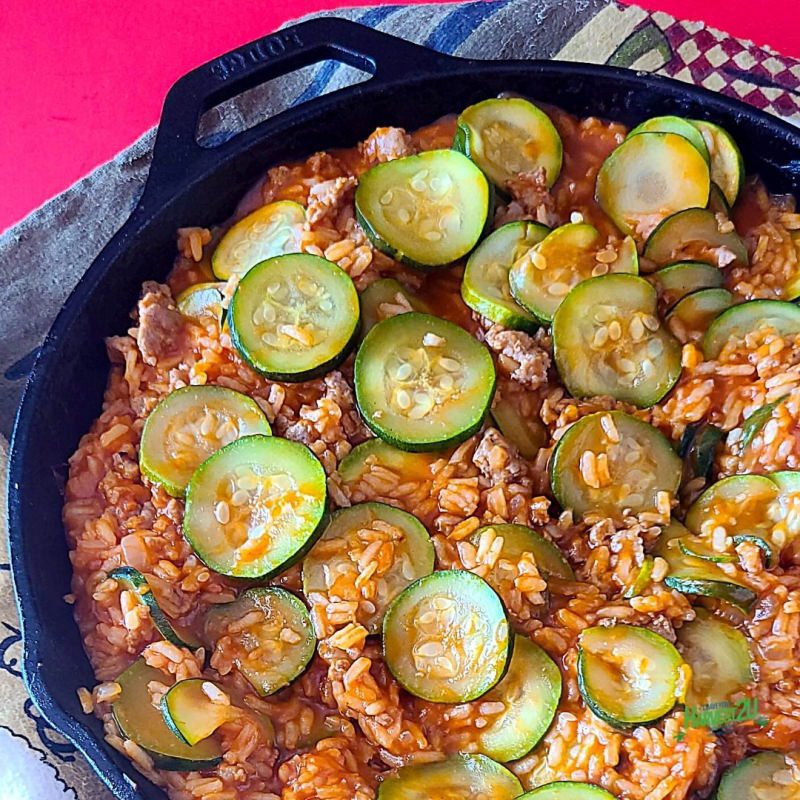 Zucchini Sausage and Rice Casserole
Zucchini Sausage and Rice Casserole is a versatile one-pan meal that comes together in about 30 minutes (depending on which kind of rice you use). 
I used up all of my fresh tomatoes, but if you have some, chop them up and add in place of, or in addition to the tomato sauce. Does your family like bell peppers? Chop them up and add with the onions. Use any summer squash or eggplant instead of, in addition to, the zucchini.
Use your preferred type of rice and adjust the water and cooking time if needed. Or go crazy and use another grain like quinoa or even cauliflower rice.
Zucchini Sausage and Rice Casserole
1 pound Italian sausage without casing
1/2 cup onions, chopped
1-2 cloves garlic minced (about 1 tablespoon more or less to taste)
3/4 cup white rice
15 ounce can tomato sauce
2-3 medium zucchini, sliced
salt and pepper to taste
Optional for serving:
chopped fresh herbs
grated Parmesan cheese
Directions
In a large skillet, brown the sausage over medium heat for 2-3 minutes, breaking into pieces as it cooks. Add onion and garlic and cook another 2-3 minutes until onions begin to turn translucent.
Turn heat to medium high. Add rice, tomato sauce and about 8 ounces of water. Stir and cover. When it comes to a boil, reduce heat to low and simmer for 10 minutes.
Uncover, stir and add zucchini slices on top. Add additional water if needed. Recover and cook another 10 minutes. 
Uncover, stir and continue cooking until rice is cooked, adding additional water as needed. 
Season with salt and pepper to taste. Top with Parmesan cheese and/or chopped fresh herbs as desired.
Always use organic fruits and vegetables in your recipes.
Do you live in one of these Southern California Cities? Aguanga, Fallbrook, Hemet, Homeland, Lake Elsinore, Menifee, Murrieta, Temecula, Wildomar, or Winchester.  If you do, you can use the local organic fruits and vegetables in our harvest deliveries for these recipes.
Resources and Recipes