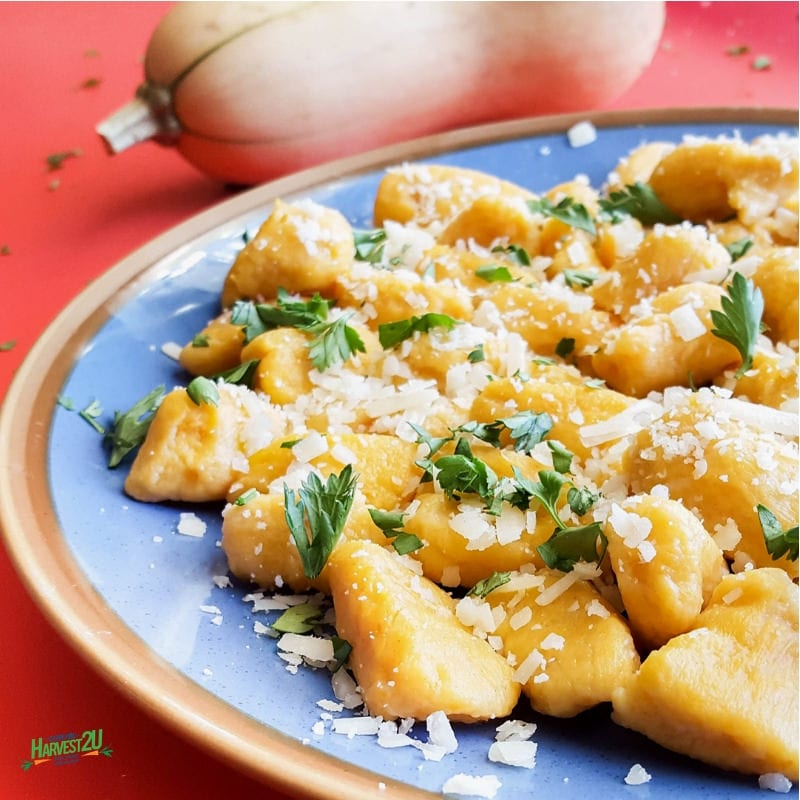 Roasted Butternut Squash Gnocchi – Homemade Pasta
This Roasted Butternut Squash Gnocchi is a simple homemade pasta with a light orange hue thanks to substituting squash for the traditional potato. You can easily substitute acorn, delicata, pumpkin or other winter squash for the butternut squash if you prefer. Winter squashes are loaded with beta-carotene, like all bright orange and yellow vegetables. They also have vitamins B and C and have a healthy dose of fiber in every serving.
Homemade pasta can be a little intimidating the first time you attempt to make it because there really is no exact recipe. I needed over 1 1/4 cup flour in my batch because my squash was a bit on the larger side. You want the Roasted Butternut Squash Gnocchi dough to be just thick enough to roll and cut without sticking to the counter and knife.
Roasted Butternut Squash Gnocchi Ingredients
1 medium butternut squash
1 egg
1 cup all-purpose or gluten-free flour (plus more for rolling)
Directions
Cut squash in half lengthwise and remove seeds. Bake at 400 until very soft, about 45 minutes.
Scoop out the roasted squash, place in a medium bowl and mash with a fork.
Bring a large pot of water to a boil.
While the water is coming to a boil, beat the egg into the squash. Then mix in the flour. If the dough is too soft to roll, add more flour until it can be rolled easily.
Sprinkle flour on the counter. Cut dough into 4 pieces. Roll each one into a 1/2 inch tube. Cut the tubes into 3/4 inch pieces. Roll each gnocchi along the tines of a fork to make lines on each one.
Boil for 3-5 minutes. The gnocchi will sink to the bottom when placed in boiling water then float at the top when done. I usually cut one open to test for doneness before draining the water.
Serve with your favorite sauce.