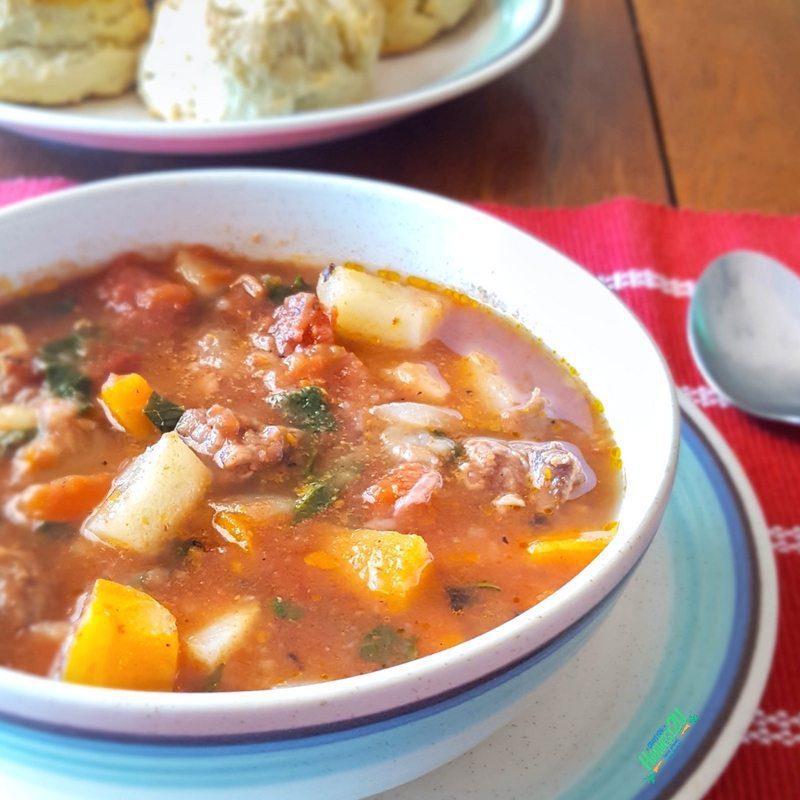 Beef and Vegetable Soup – Plus Greens For Extra Nutrition
Beef and vegetable soup is loaded with healthy root vegetables, plus some greens tossed in at the end for extra color and nutrition.
I have included instructions for cooking it 3 different ways: stovetop, slow cooker, and pressure cooker.
Beef and Vegetable Soup Ingredients
1 1/2 pound beef chuck roast cut into 1-inch cubes
3 medium carrots cut into 1-inch pieces
2 potatoes cut into 1-inch pieces
2 medium turnips with greens whites cut into cubes, greens cut into small strips
1/2 cup chopped onion
1 teaspoon dried thyme
1 bay leaf
2 –  14 to 15-ounce cans of fire-roasted diced tomatoes
1 cup chicken or beef broth
salt and pepper to taste
Directions
Add all of the ingredients, except turnip greens and salt and pepper, to slow cooker, pressure cooker or stovetop.
Slow Cooker
Cook on high 4-5 hours or low 8-10 hours (time will vary based on the size of the slow cooker)
Pressure Cooker
Set to Soup and adjust the time to 17 minutes, let the pressure release naturally.
Stovetop
Cover and cook on medium heat for about 2 hours until beef and vegetables are tender.
…Continue
Remove the bay leaf.
Add the turnip greens and cook for a few minutes more until the greens are wilted. Adjust seasoning and serve.