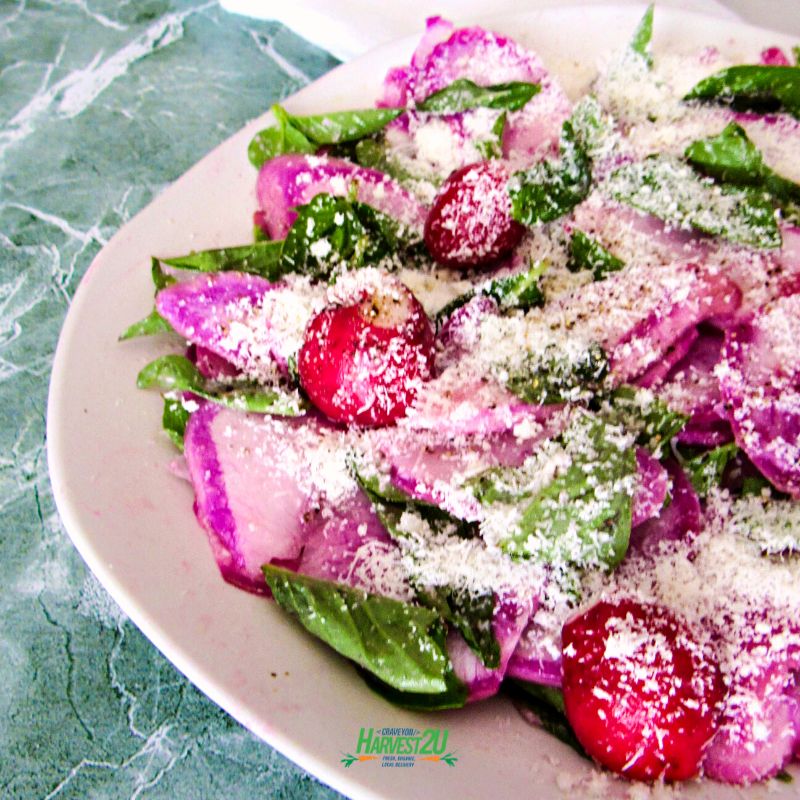 Lemony Basil Radish Salad – Flavor Packed
Lemony Basil Radish Salad is a simple flavor packed salad made without lettuce. Crunchy radish slices, peppery basil, grated Parmesan cheese, and a simple lemon oil vinaigrette combine together for a beautifully colorful salad.
This salad can be made with any radishes but is much prettier if you use a variety of colors and shapes. I sliced the longer radishes lengthwise into long ribbons, but you could also cut some into circles.
Nutrients in Basil Radish Salad
Radishes are low in calories but high in nutrients like fiber, vitamins A, B, and C, and minerals such as copper and potassium. (source) 
Basil is a dark leafy green making it a great source of vitamin K and trace amounts of vitamin A, folate, copper, and manganese. (source). 
Fresh lemon juice boosts vitamin C, most of the B vitamin complex, and minerals such as potassium, copper, and magnesium. (source) 
These ingredients also contain plenty of antioxidants to help your body prevent cell damage, leading to chronic conditions such as arthritis, cancer, heart disease, and diabetes. 
Olive oil (or your favorite monounsaturated oil) is an important ingredient to help absorb vitamins A, E, and K, so don't leave it out. 
Lemony Basil Radish Salad Ingredients
1 pound of mixed radishes
large pinch of Kosher salt
3 ounces grated Parmesan cheese
1/2 cup fresh basil leaves (stems removed)
1/2 lemon, juiced 
2 tablespoons extra virgin olive oil
freshly ground pepper, to taste
Directions
Use a mandolin, vegetable peeler, or the side of a box grater and thinly slice the radishes lengthwise. Keep small ones whole or cut in halves or quarters.
In a medium bowl, add radishes, sprinkle with salt, and combine. Let sit for a few minutes to draw some water out of the radishes. 
Reserve about 1-2 tablespoons of Parmesan for serving. Add the rest of the Parmesan to the radishes with the basil leaves, fresh lemon juice, and olive oil. Mix to combine.
Arrange salad on a serving platter. Sprinkle with reserved Parmesan cheese and freshly ground pepper to taste. 
Always use organic fruits and vegetables in your recipes.
Do you live in one of these Southern California Cities? Aguanga, Fallbrook, Hemet, Homeland, Lake Elsinore, Menifee, Murrieta, Temecula, Wildomar, or Winchester.  If you do, you can use the local organic fruits and vegetables in our harvest deliveries for these recipes.
Resources and Recipes