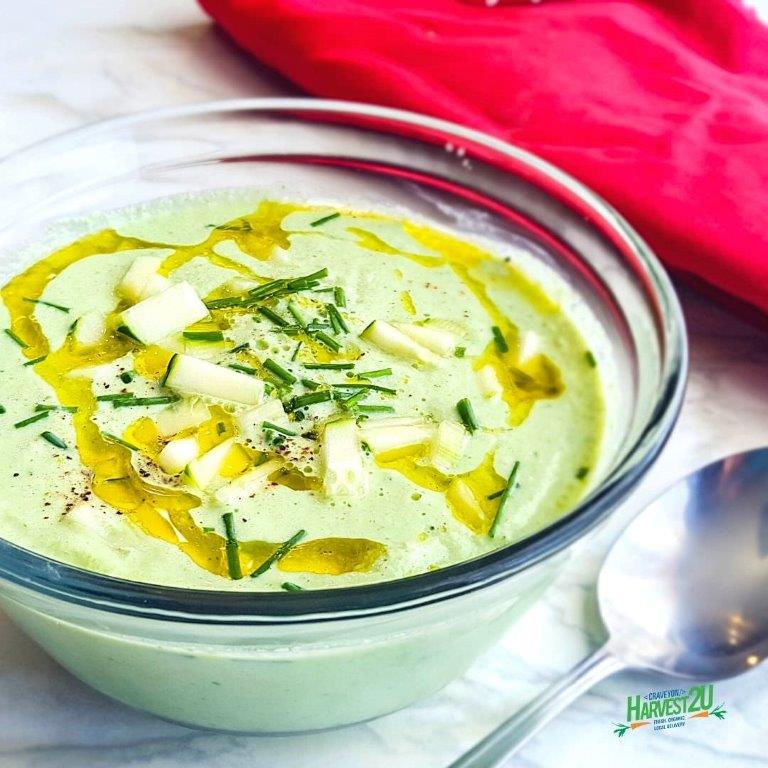 Cold Cucumber Basil Soup – Refreshing During the Summer Heat
Cold Cucumber Basil Soup is a simple blender soup that is so refreshing during the summer heat. No cooking, just toss some fresh ingredients in a blender or food processor and enjoy.
This summer soup uses the classic Mediterranean combination of cucumbers and yogurt, with some onions, chives, and basil for extra flavor. Cucumbers are high in water content and low in calories. They have small amounts of a variety of vitamins and minerals such as vitamins A, C, and K, potassium, manganese, and magnesium. The herbs add some vitamin K, folate, calcium, and zinc, with almost no calories.
Most of the nutrition is in the cucumber skin!
Cold Cucumber Basil Soup Ingredients
The amounts below are general guidelines. This is soup, add more or less of the ingredients to suit your tastes.
1/2 cup plain Greek yogurt
2 medium cucumbers, peeled (optional), seeded, and cut into large chunks
1/4 cup fresh chives (or garlic chives)
1/4 cup fresh basil leaves
1/4 cup onions, cut in large chunks
1 tablespoon freshly squeezed lemon juice
2 tablespoons olive oil
salt and pepper to taste
Directions
If desired, dice about 1/4 cup of cucumbers and set aside for garnish along with some of the herbs and 1 tablespoon olive oil.
Put all ingredients except salt and pepper in a blender or food processor and pulse 5-6 times to break the cucumber up. Blend until smooth.
Add salt and pepper to taste, garnish with cucumbers, herbs, and olive oil (optional).
Always use organic fruits and vegetables in your recipes.
Do you live in one of these Southern California Cities? Aguanga, Fallbrook, Hemet, Homeland, Lake Elsinore, Menifee, Murrieta, Temecula, Wildomar, or Winchester.  If you do, you can use the local organic fruits and vegetables in our harvest deliveries for these recipes.
Resources and Recipes