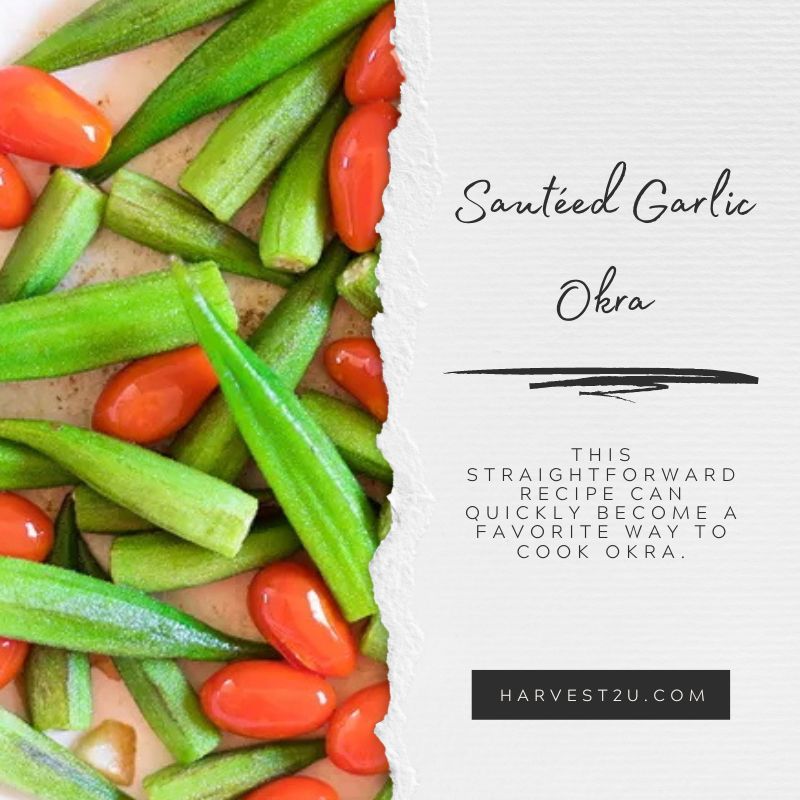 Sautéed Garlic Okra – Our Favorite Way to Cook It
This straightforward Sautéed Garlic Okra recipe can quickly become a favorite way to cook okra. It cooks up pleasingly and is not slimy; the grape or cherry tomatoes are a great contrast. It is an adaptable recipe. Also, you can add random ingredients to the pan. Make as much as you want without altering the recipe.
Okra's light grassy flavor is accentuated by this simple cooking method. When cooking the pods whole, quickly, and without liquid, you bypass the factors that make them slimy. You can enjoy its fantastic flavor, enhanced by a touch of garlic, without any weird texture that keeps many of us away from this delicious and nutritional vegetable.
Sautéed Garlic Okra Ingredients
1 pound of okra
1 clove garlic
Grape or cherry tomatoes (optional)
2 teaspoons oil (such as grapeseed oil, olive oil, etc.)
Salt, to taste
Sautéed Garlic Okra Directions
Cut off and toss the stem ends of the okra pods. Rinse the trimmed pods and carefully pat them dry (the dryer, the better). Set aside.
Peel the garlic clove, cut it in half lengthwise, and cut it crosswise, as thinly as possible.
Heat a big frying pan over medium-high heat. Add the oil, stir the oil to coat the bottom, and heat until the oil shimmers, approximately 30 seconds.
Toss in the garlic and let it sizzle until it begins to turn golden, about 1 minute.
Add in the okra. Stir to coat it with oil and mix with the garlic. Cover and cook, jostling the pan repeatedly to move the okra pods around until the okra starts to brown on the edges and is tender to the taste, about 8 minutes.
Move the okra to individual plates or a serving platter, add the optional grape or cherry tomatoes and sprinkle with salt. Serve and enjoy.
Always use organic fruits and vegetables in your recipes.
Do you live in one of these Southern California Cities? Aguanga, Fallbrook, Hemet, Homeland, Lake Elsinore, Menifee, Murrieta, Temecula, Wildomar, or Winchester.  If you do, you can use the local organic fruits and vegetables in our harvest deliveries for these recipes.
Resources and Recipes