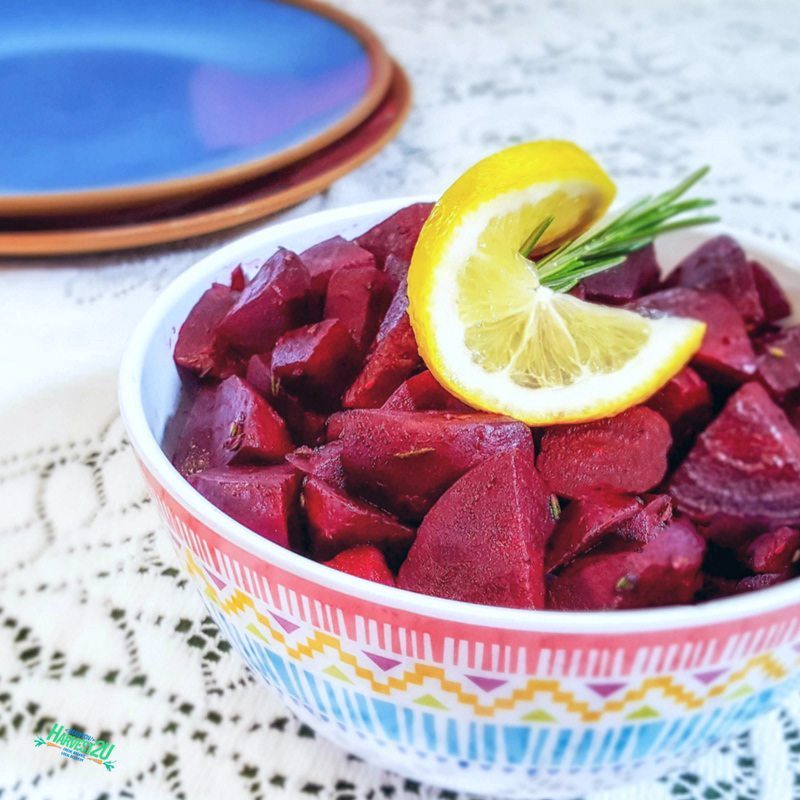 Sauteed Rosemary Beets – Easy Way to Prepare a Superfood
Rosemary beets (beets in particular) are high in fiber, vitamin C, potassium, and manganese. This healthy side dish keeps it simple with some fresh herbs and lemon juice.
One cup (136 grams) of boiled beets (beetroot) contains fewer than 60 calories, while 3/4 cup (100 grams) of raw beets boasts the following nutrients:
Calories:

43

Water:

88%

Protein:

1.6 grams

Carbs:

9.6 grams

Sugar:

6.8 grams

Fiber:

2.8 grams

Fat:

0.2 grams
Raw or cooked beetroot offers about 8–10% carbs.
Beets have a glycemic medium index (GI) score of 61. The GI is a measure of how fast blood sugar levels rise after a meal.
Beets are high in fiber, providing about 2–3 grams in each 3/4-cup (100-gram) raw serving.
Sauteed Rosemary Beets Ingredients
1 bunch beets
1 tablespoon olive oil
1 tablespoon fresh rosemary leaves, finely chopped
1/2 lemon
Directions
Trim off the taproot and the greens from the beets. Put in a saucepan and cover with water.
Bring to a boil – lower heat to medium to cook until tender, 20-30 minutes depending on the size of the beets.
Drain and cover with ice water until cool enough to handle.
Trim the beets completely and slough off the peel. Cut into chunks.
Heat olive oil in a skillet over medium heat. Add beets and rosemary and cook until rosemary is fragrant and beets are heated.
Squeeze lemon juice over the beets and serve.
Always use organic fruits and vegetables in your recipes.
Do you live in one of these Southern California Cities? Aguanga, Fallbrook, Hemet, Homeland, Lake Elsinore, Menifee, Murrieta, Temecula, Wildomar, or Winchester.  If you do, you can use the local organic fruits and vegetables in our harvest deliveries for these recipes.
Resources and Recipes