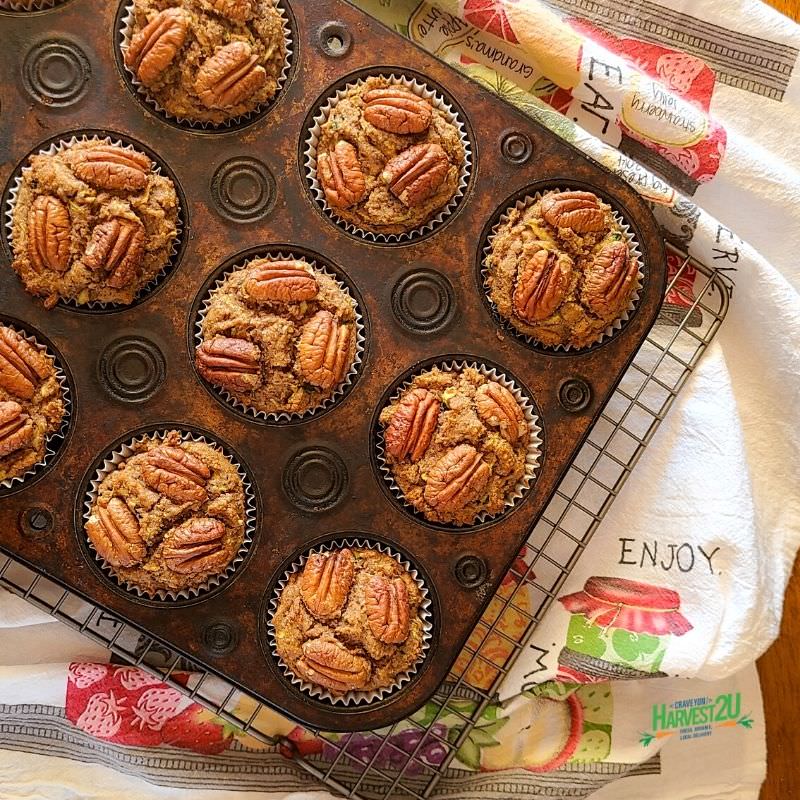 Zucchini Nut Muffins – A Healthy Way to start your day
Zucchini Nut Muffins are a healthy way to start your day with plenty of protein and vegetables packed in. In addition, it's great for a nutritious breakfast on the go. 
Summer squashes are great to add some extra nutrition to your baking. For instance, just grate them up and squeeze out the extra liquid or you can reduce some of the liquid in your recipe, and voila! Additionally, you get some extra vitamins and minerals with negligible extra calories.
Zucchini doesn't stand out in any single nutrient category, but they are an excellent source in most nutritional categories, including macronutrients, vitamins, and minerals. They are a great source of copper and manganese as well as carotenoids and B vitamins. And only 36 calories and 4-5 net carbs per cup, they are a delicious complement to any diet.
Substitutions for Zucchini Nut Muffins
In this recipe, I used pecans, pecan butter, and pecan meal. But any type of nuts or seeds would work just as well (almonds, cashew, sunflower). You can use all of one or mix and match
The flour can be all-purpose wheat flour or your favorite gluten-free variety. I used white rice flour, but if you want an almond taste, you could use all almond flour instead of the pecan meal and flour.
And, of course, you can use any fresh organic summer squash instead of zucchini.
Zucchini Nut Muffins Ingredients
1 cup all purpose flour (or gluten free substitute such as almond flour or rice flour)
1 cup pecan meal (see note)
1/2 teaspoon baking soda
1 teaspoon baking powder
1/4 teaspoon salt
1 teaspoon cinnamon
1/4 teaspoon nutmeg
2 large eggs
1/3 cup pecan butter (see note)
1/4 cup coconut oil, melted
1/4 cup maple syrup
1 teaspoon vanilla extract (or almond extract)
1 cup grated fresh organic zucchini, squeezed dry
24-36 pecan halves
Directions
Preheat the oven to 350 degrees.
Line muffin tin with wrappers or grease well.
In a medium bowl, whisk together flour, meal, baking powder, baking soda, salt, cinnamon, and nutmeg.
In a large bowl, whisk together eggs, pecan butter, oil, maple syrup, and vanilla until smooth.
Add the flour mixture and zucchini to the liquid ingredients and fold until just combined.
Fill muffin cups about 3/4 full with batter and then push pecan halves gently into the top of each muffin.
Bake at 350 degrees until a toothpick inserted in the center comes out clean, about 10-15 minutes.
Afterwards, remove from pan and let cool on a wire rack.
Note: If you can't find pecan meal or pecan butter both are easy to make with pecan pieces. Just process the nuts in a food processor until grainy for the pecan meal. For the pecan butter, keep processing until it achieves a butter-like consistency. You can add a little oil to help blend the pecan butter.
Always use organic fruits and vegetables in your recipes.
Do you live in one of these Southern California Cities? Aguanga, Fallbrook, Hemet, Homeland, Lake Elsinore, Menifee, Murrieta, Temecula, Wildomar, or Winchester.  If you do, you can use the local organic fruits and vegetables in our harvest deliveries for these recipes.
Resources and Recipes