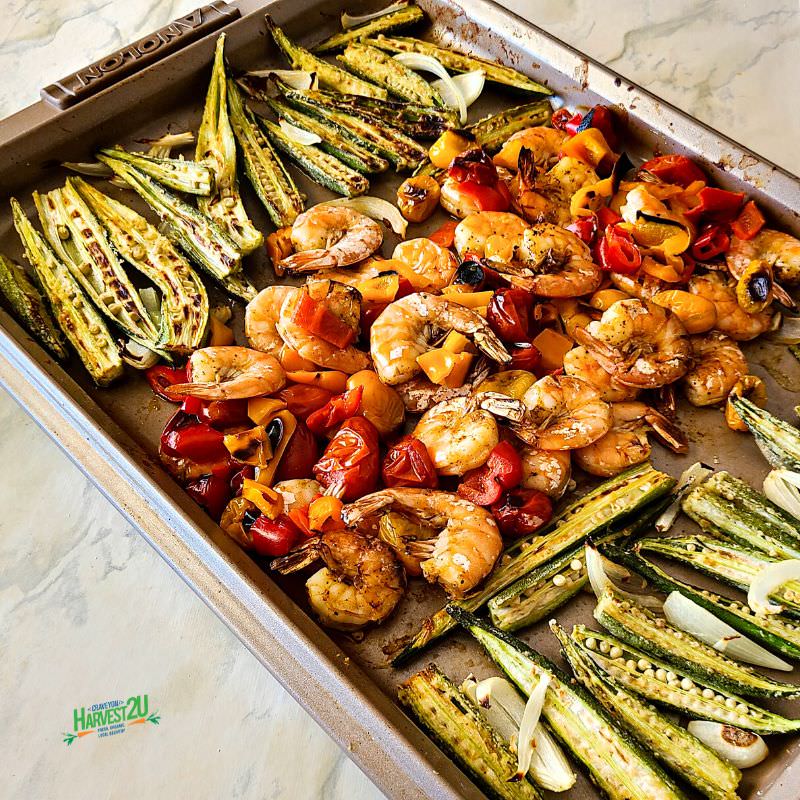 Shrimp and Okra Sheet Pan Meal
Shrimp and Okra Sheet Pan Meal is a flavorful one-pan meal that only takes about 30 minutes to make. Simple vegetables like okra, onions, peppers, and tomatoes are broiled together with shrimp for a deliciously healthy dish perfect for busy weeknights.
Outside of the south, okra is probably best known as "the gumbo vegetable" in the United States. It is actually a common ingredient in a variety of African and South Asian cuisines.
Okra is a low-calorie, low-carb vegetable with plenty of nutritional value. It has 35 calories per 100 grams with 4 net carbs and 3 grams of protein. It is a good source of manganese (metabolism and brain/nerve function) as well as vitamin K (blood clotting and bone health) and vitamin C. Some promising studies indicate it may have strong anti-cancer properties.
Shrimp and Okra Ingredients
10 ounces of fresh okra pods
1 medium red or yellow bell pepper
1 medium yellow or red onion
1 cup cherry or grape tomatoes
2 tablespoons olive oil
2 tablespoons all-purpose or gluten-free flour
2 teaspoons Cajun seasoning 8-12 ounces peeled or tail on shrimp
Shrimp and Okra Directions
Add a small amount of olive oil to the sheet pan and set aside.
Cut okra pods in half lengthwise. Cut bell pepper and onion into strips.
Combine a pinch of Cajun seasoning with the flour. Put okra in a small bowl, and toss with olive oil. Sprinkle with flour and toss to coat. Place cut side down on the sheet pan.
Add remaining Cajun seasoning to the shrimp. Spread in a single layer on the sheet pan. Add onions, bell peppers, and tomatoes to the sheet pan.
Broil on high for 10 minutes. Turn ingredients over and broil another 5-10 minutes until shrimp is cooked and okra is crisped and brown. Remove ingredients if they seem done earlier than the rest.
Mix ingredients together and serve over steamed rice.
Always use organic fruits and vegetables in your recipes.
Do you live in one of these Southern California Cities? Aguanga, Fallbrook, Hemet, Homeland, Lake Elsinore, Menifee, Murrieta, Temecula, Wildomar, or Winchester.  If you do, you can use the local organic fruits and vegetables in our harvest deliveries for these recipes.
Resources and Recipes