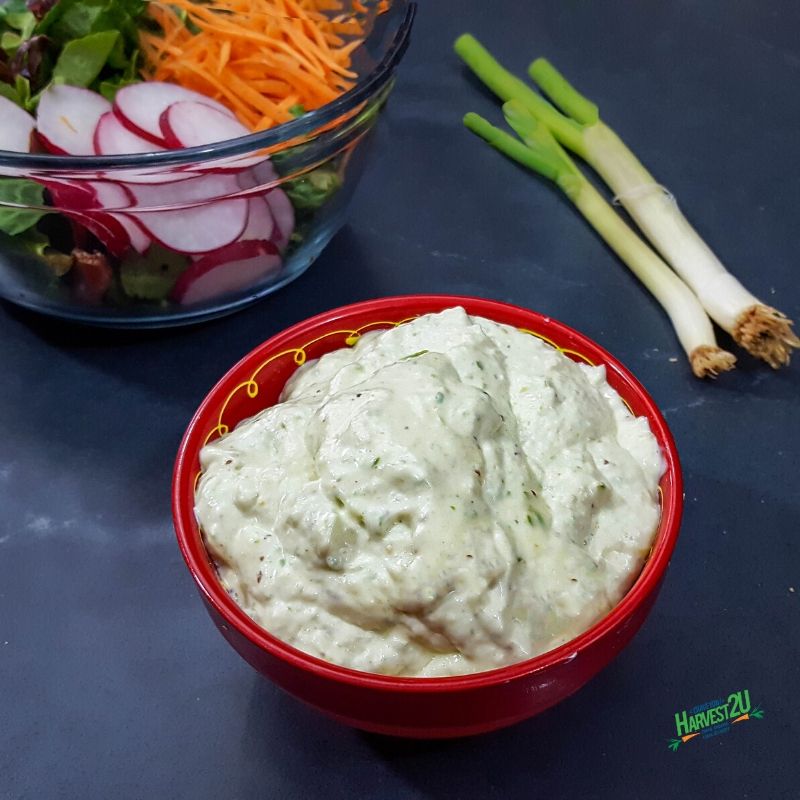 Creamy Green Onion Dressing (or Dip) – Heavy on the Vitamin K
Creamy Green Onion Dressing is great on salads or as a dip for vegetables or chips. It is amazing on potato salad.
Green onions, or scallions, give you some nutritional benefits of onions and greens. Sulfur compounds give onions their pungent taste and are quite beneficial in helping prevent blood clots and lower cholesterol. Green onions also have plenty of vitamin K like greens. They are low carb and offer plenty of fiber, antioxidants, and other phytonutrients. (source)
As tempting as it is to use olive oil in this, its strong taste will overpower it. Use a neutral-tasting oil like canola, grapeseed, or avocado.
Creamy Green Onion Dressing Ingredients
1 egg
1 cup neutral-tasting oil (canola, grapeseed, avocado, etc.)
1/2 cup chopped green onions (white and green parts)
1 1/2 tablespoons brown mustard
1 tablespoon apple cider vinegar
salt and pepper to taste
Directions
In the bowl of a food processor, blend one egg until frothy.
With the food processor running, drizzle in the oil slowly until the mixture is white and creamy.
Add the green onions, mustard, and vinegar and process until smooth.
Add salt and pepper to taste.
Thin with a little milk if desired.
Always use organic fruits and vegetables in your recipes.
Do you live in one of these Southern California Cities? Aguanga, Fallbrook, Hemet, Homeland, Lake Elsinore, Menifee, Murrieta, Temecula, Wildomar, or Winchester.  If you do, you can use the local organic fruits and vegetables in our harvest deliveries for these recipes.
Resources and Recipes