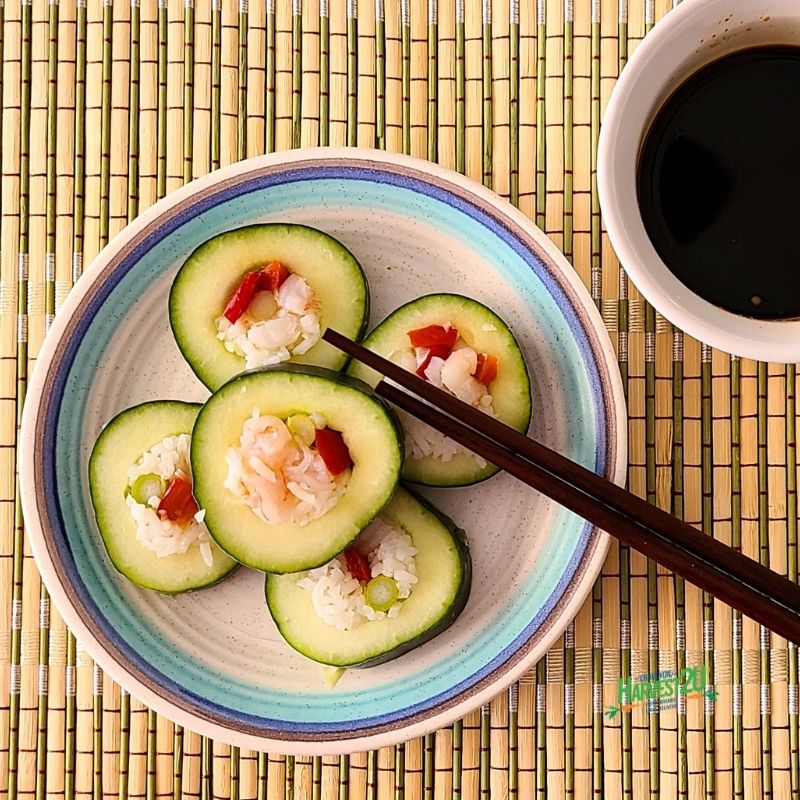 Cucumber Sushi Rolls with Spicy Dipping Sauce
Cucumber Sushi Rolls are a healthy, easy, no-cook meal perfect for using up leftovers on a hot summer night.
I am a huge fan of cooking once eat twice meals, which is a great way to use rice on the second day. Just re-steam a little rice until it is hot and fluffy again, and you are good to go for this recipe. 
About the Cucumbers
While you can use any cucumber for this recipe, English/Kirby cucumbers will probably work best because they are wider than other varieties such as pickling or Armenian.
To peel or not to peel is a matter of personal preference. If you remove the peel, you will lose out on some of the fiber, vitamins, and minerals. I left the peel on for the photos and videos simply because that dark green outer layer provides a nice visual contrast.
Another option is to remove half of the peel, leaving strips of peel in between so you still get some of the nutrition and visual appeal.
Fillings for Cucumber Sushi Rolls
The number one rule for this recipe is to put in whatever you like best. A few traditional filling ideas:
Rice – any kind you like; sushi rice is traditional, but you can use brown or white, short, medium or long grain.
Seafood – Some ideas include cooked shrimp, crab or imitation crab, and smoked salmon. If you leave the fish raw, you probably want to use sushi grade.
Vegetables – avocado, green onions, bell peppers, etc.
Extras on top: sesame seeds, jalapeno slices, cilantro, chopped green onions, etc.
Cucumber Sushi Rolls Ingredients
2-3 large cucumbers
2-3 cups cooked rice
1 cup cooked shrimp
2-3 green onions
1 red bell pepper, seeded and cut into thin strips.
Spicy Dipping Sauce for Cucumber Sushi Rolls
1/4 cup soy sauce
1/4 cup rice vinegar
1/4 teaspoon sambal oelek or garlic chili sauce (more or less to taste)
Directions
Peel cucumbers, if desired.
Remove about 1/4 inch from both the blossom and stem ends.
Using a small spoon or knife, scrape out the seeds, leaving a hollow tube with a hollow center.
Spoon the rice into the cucumber. Using a table knife press it tightly to one side. Add other fillings, packing tightly.
Slice into approximately 1/2 inch rounds. If the filling falls out just push it back in, adding more if needed.
Combine the Spicy Dipping Sauce ingredients in a small bowl and serve with the cucumber sushi rolls.
Always use organic fruits and vegetables in your recipes.
Do you live in one of these Southern California Cities? Aguanga, Fallbrook, Hemet, Homeland, Lake Elsinore, Menifee, Murrieta, Temecula, Wildomar, or Winchester.  If you do, you can use the local organic fruits and vegetables in our harvest deliveries for these recipes.
Resources and Recipes