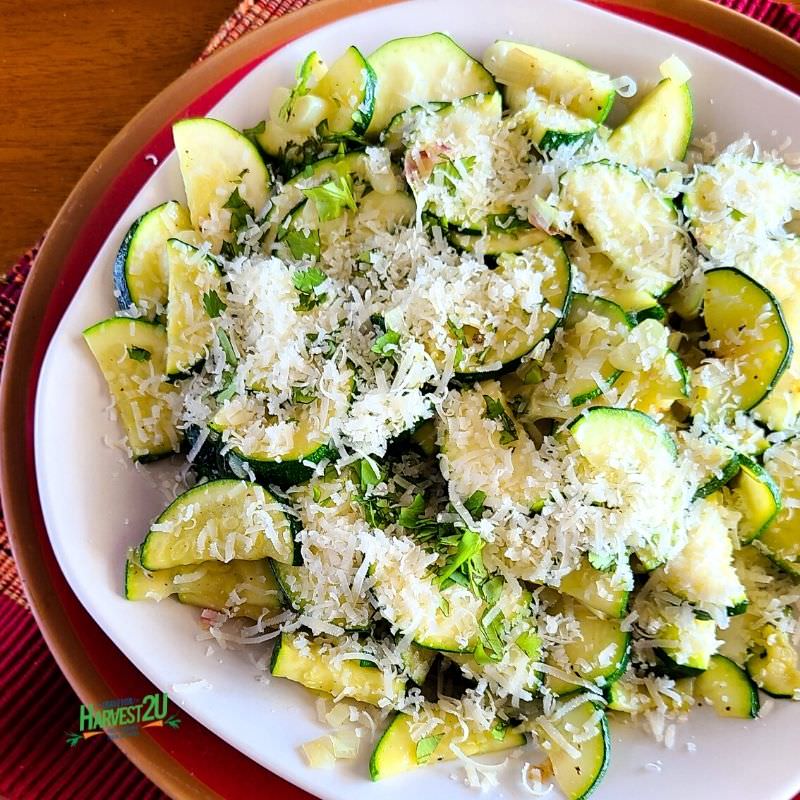 Zucchini Saute – A Simple Summer Side Dish
Zucchini Saute is a deliciously easy way to prepare zucchini that is ready in about 15 minutes. Perfect for those too hot to cook summer nights. And it is easy to adapt to the ingredients you have on hand and adjust the amounts to feed one or a crowd.
Health Benefits of Zucchini
Zucchini is low in calories and carbs but loaded with vitamins (particularly A, C and K), and minerals (like manganese, potassium, magnesium, and copper). And then there are the healthy antioxidants like carotenoids that may benefit your eyes, skin, and heart, as well as offer some protection against certain types of cancer.
Ingredient Substitutions for Zucchini Saute
While I titled the recipe zucchini saute, you can use any summer squash in this recipe. You could even use winter squashes, but the cooking time will be longer.
I used some beautiful shallot scapes, but you can use shallots, garlic or onion scapes, or even a little yellow onion.
Fresh herbs are best for this. Basil, parsley, or chives in particular. But go with what you like best.
Zucchini Saute Ingredients
1 teaspoon olive oil
1-2 shallots. sliced
2-3 medium zucchini, cut in half lengthwise, then thinly sliced
salt and pepper to taste
1/4 cup Parmesan cheese, grated
2-3 tablespoons chopped fresh herbs (basil, parsley, chives, etc.)
Directions
Heat olive oil in a large skillet over medium heat.
Add sliced shallots and cook until turning golden, about 3-4 minutes.
Add zucchini slices and salt and pepper to taste.
Cook until zucchini is as soft as you like, about 3-5 minutes.
Put on a serving plate, top with Parmesan cheese and fresh herbs, and serve.
Always use organic fruits and vegetables in your recipes.
Do you live in one of these Southern California Cities? Aguanga, Fallbrook, Hemet, Homeland, Lake Elsinore, Menifee, Murrieta, Temecula, Wildomar, or Winchester.  If you do, you can use the local organic fruits and vegetables in our harvest deliveries for these recipes.
Resources and Recipes