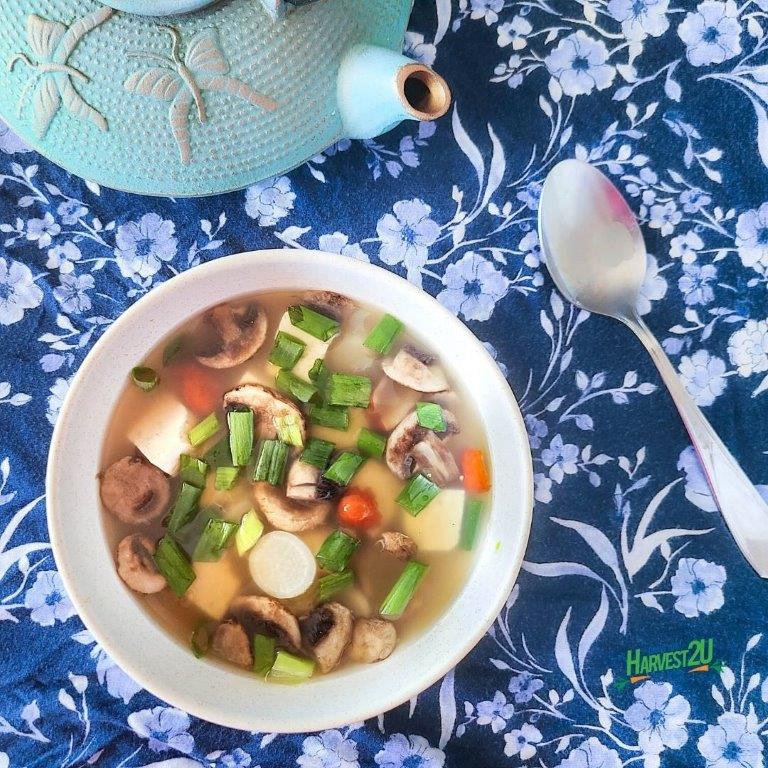 Daikon Radish Tofu Soup – In 15 minutes
Daikon Radish Tofu is a light vegetable soup made with daikon radishes, some firm tofu for protein, and a few Jujubes (or you can substitute dried raisins) for a touch of natural sweetness. And the best part of this healthy soup recipe, it's done in about 15 minutes.
Daikon radishes contain glucosinolates, a sulfurous compound that does wonderful things for our bodies like protect it from oxidative stress and help prevent heart disease and cancer.
If tofu isn't your thing, you can add leftover chicken. But, if you want to go meatless, tofu is a wonderful mild-tasting alternative and the way this soup is traditionally served in Japan.
Daikon Radish Tofu Soup Ingredients
1 pound daikon radish
5-6 green onions
8 ounces firm or extra firm tofu
2 ounces fresh white or button mushrooms
6-8 dried Jujubes (1/2 cup dried raisins)
1-quart vegetable or chicken broth
Directions
Cut the daikon radishes into small slices.
Chop the green onions, reserving the green tops for serving.
Cut the tofu into bite-sized cubes.
Slice the mushrooms thinly.
Remove the seeds from the jujubes and cut them into quarters.
In a stockpot, heat the broth over medium heat. Add the daikon and white part of the green onions. Cook for 5-7 minutes until the radishes are tender.
Add the tofu, mushrooms, and jujubes (or dried raisins).
Simmer for another 5 minutes until everything is heated.
Serve with the reserved green onions sprinkled on top.