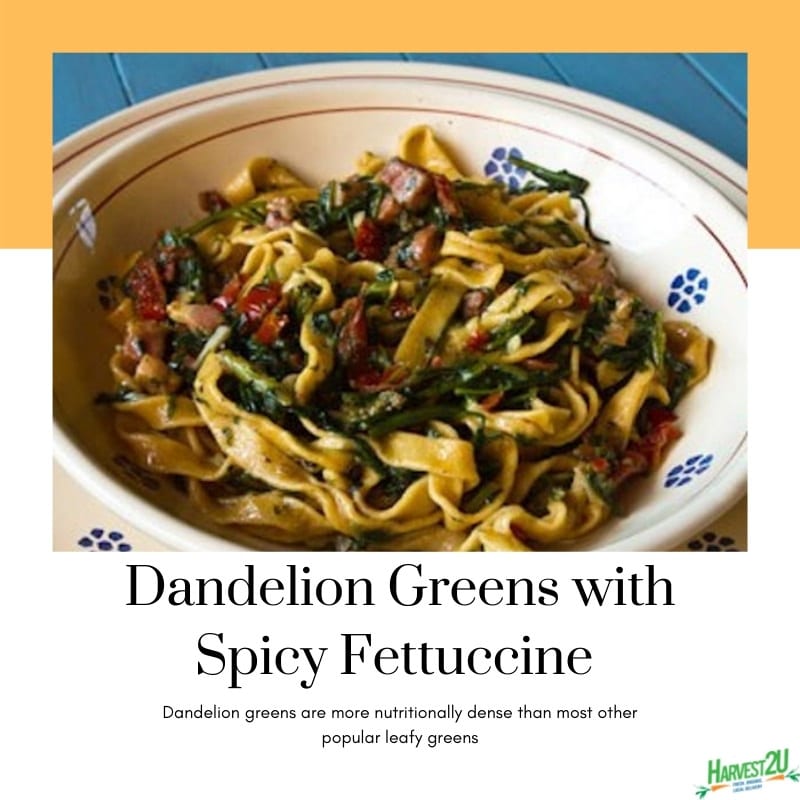 Dandelion Greens with Spicy Fettuccine
Dandelion Greens with Spicy Fettuccine Greens is an excellent way to add greens to your diet, whether we are talking about dandelion greens, Swiss chard, spinach, mustard greens, chicory, or kale. We recommended using greens in your dishes at least a couple of times a week. Here's a great recipe using Dandelion Greens in a pasta dish along with some sun-dried tomatoes and diced pancetta (optional).
Dandelion greens are more nutritionally dense than most other popular leafy greens.
Dandelion Greens with Spicy Fettuccine Ingredients
1 Bunch of Dandelion Greens – About 2 Cups Cooked
3 Tablespoons Olive Oil
6 Large Sun-Dried Tomatoes, Diced
1/4 Cup Diced Pancetta (Optional)
3 Large Garlic Cloves, Peeled & Minced
2 Red Hot Peppers, Minced
Salt & Pepper
16 oz Pasta
Directions
Trim the dandelion greens, and cut into 1-inch pieces.
Bring a pot of salted water to a boil, drop the greens in, and cook until tender.
Remove the dandelion greens from the water and drain well.
In a saucepan, heat the olive oil, add the pancetta (optional), and cook until the pancetta is cooked and light brown.
Add the garlic – cook, until aromatic; add the sun-dried tomatoes, hot peppers, and cook over low heat.
Add salt and pepper (to taste).
Bring a pot of water to boil and cook the pasta until it is "al dente."
Reserve a small cup of the pasta water, then drain well.
Return the pasta to the pot, and add the greens and sun-dried tomato mixture, tossing well to mix.
Add a little of the pasta water to moisten and toss well.
Serve in individual bowls.
FREE Weekly Video Recipe Series
Sign-up for our 30-second (all under a minute) video recipe series is designed to provide you an easy way to use Harvest2U's locally grown organic produce.