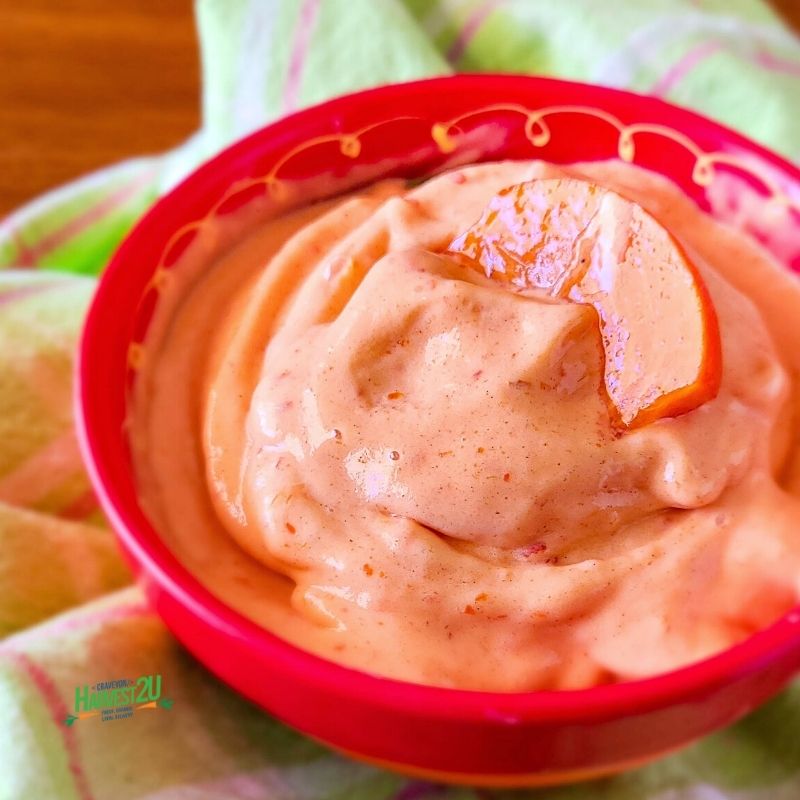 Persimmon Nice Cream – Satisfies Your Sweet Tooth in a Healthy Way
Persimmon Nice Cream is an easy vegan dessert that satisfies your sweet tooth in a healthy way.
My family could eat ice cream 365 days a year. It could be below zero outside but they could still be talked into a scoop or two. Luckily this recipe is a sugar-free version I can serve them without guilt.
Some people like to peel the organic persimmon before blending, but I like the bright specs of color dotting the creamy mixture so I skip this step. Plus, less work = better. Do whichever you prefer.
The persimmons will keep for a while in the freezer, but be sure to wait until you are ready to serve to blend this. It does not refreeze well becoming a persimmon milk ice cube instead of a creamy frozen treat.
What kind of organic persimmon should you use?
Ripe. Very ripe is best. Especially if you are using Hachiya persimmons, which can be astringent if they are not fully ripened.
I had a few Fuyu persimmons on the counter that were very soft. Another day and they might have been too soft to enjoy. This is the perfect recipe for fruit in that condition because they are extra sweet and the consistency actually works in your favor.
What kind of milk should you use?
I like coconut or almond milk with persimmon for the taste. But you can use any non-dairy milk, or even cream, or half and half.
Persimmon Nice Cream Ingredients
2-3 very ripe persimmons
1/4-1/2 cup coconut milk (or cream or other non-dairy variety)
Directions
Wash and freeze the persimmons until hard.
When ready to serve remove persimmons from the freezer.
Cut off the stem and discard. Slice into chunks.
Place persimmons in a food processor or blender.
Add about 1/4 cup of milk.
Pulse 5-6 times to break up the persimmons, then blend until smooth. If it is too thick, add a little more milk and continue blending.
Serve immediately.
Always use organic fruits and vegetables in your recipes.
Do you live in one of these Southern California Cities? Aguanga, Fallbrook, Hemet, Homeland, Lake Elsinore, Menifee, Murrieta, Temecula, Wildomar, or Winchester.  If you do, you can use the local organic fruits and vegetables in our harvest deliveries for these recipes.
Resources and Recipes