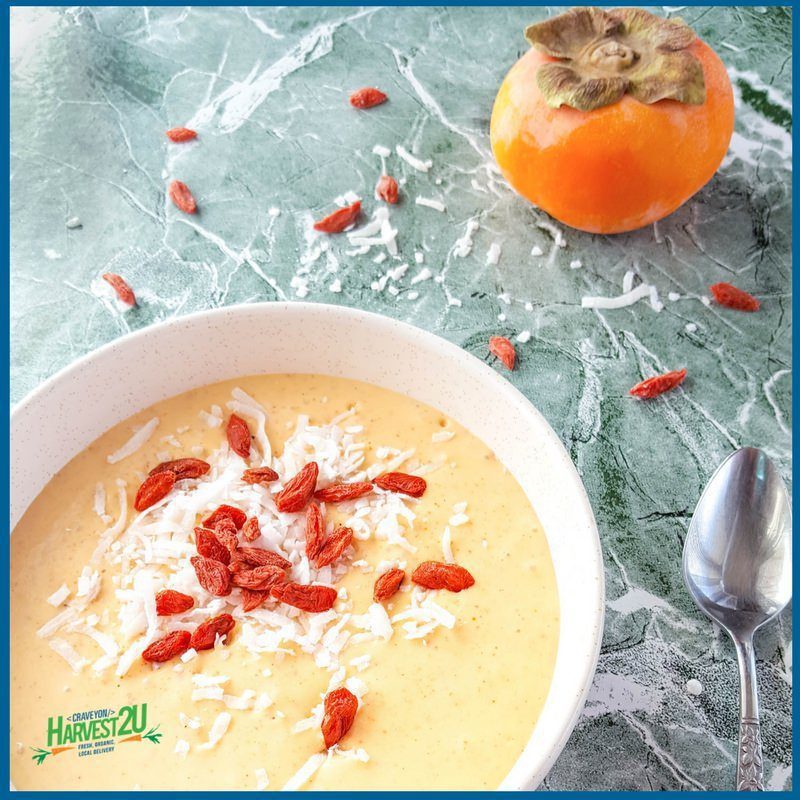 Persimmon Smoothie Bowl – Delicious Breakfast or Dessert
Making a Persimmon Smoothie is EASY!
Frozen persimmons are delicious by themselves, just freeze when ripe, cut off the top and scoop out the fruit like ice cream. I added a little bit of extra goodness for a delicious breakfast or dessert.
If you'd rather drink your smoothie, just pour it into a glass to enjoy.
Health Benefits of Persimmons
Persimmons are rich in vitamin C, vitamin A, vitamin B6, and vitamin E, dietary fiber, copper, manganese,  magnesium, phosphorous, and potassium. They also contain organic compounds that include gallocatechins, betulinic acid, catechins, and carotenoid compounds, i.e.,  B complex of vitamins.
The list of health benefits that Persimmons can provide is primarily due to the presence of the above-mentioned vitamin and organic compounds, as well as some mineral content.
Boost Immunity
Prevent Cancer
Aid Digestion
Prevent Tumor Development
Control Blood Pressure
Regulate Blood Circulation
Improve Metabolic Activity
Persimmon Smoothie Ingredients
1 persimmon, frozen
1 cup plain (or flavored) yogurt
1 teaspoon flax seed
shredded coconut
dried goji berries
Directions
With a serrated knife, slice persimmon in quarters and remove stem and leaves.
Cut into chunks.
Put persimmon chunks in a blender with yogurt and flax seeds and blend until smooth.
Pour into a bowl (or glass) and top with coconut and goji berries.
Always use organic fruits and vegetables in your recipes.
Do you live in one of these Southern California Cities? Aguanga, Fallbrook, Hemet, Homeland, Lake Elsinore, Menifee, Murrieta, Temecula, Wildomar, or Winchester.  If you do, you can use the local organic fruits and vegetables in our harvest deliveries for these recipes.
Other Great Recipes and Resources