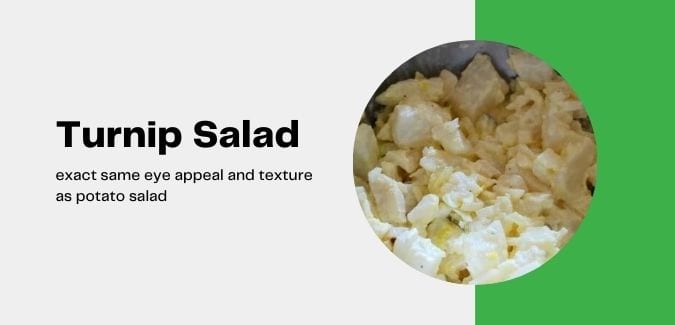 Turnip Salad – Perfect Alternative to Potato Salad
This organic Turnip Salad replaces the carbohydrate-filled potato salad we are all accustomed to at parties and picnics. And it's summertime and many of us are looking for ways to include healthier food choices in our meals.
What's even better this Turnip Salad has the exact same eye appeal and texture as potato salad!
It's a root vegetable in the Brassicaceae family (cabbage, broccoli, etc.) They can be light purple on top and white on the bottom, but there are more than 30 varieties with varying colors and shapes. Some are sweet, like a carrot, while others taste more like a potato.
With this wonderful vegetable, you can eat both the turnip's root and the leafy greens on top. They're both super healthy for you.
Turnip Salad Ingredients
3-5 medium Turnips
1 cup chopped celery
½ cup chopped onion
3 eggs, hard-boiled (Harvest2U's Local Chicken Eggs are perfect)
½ cup mayonnaise
½ cup dill pickle relish
¼ teaspoon garlic salt
¼ teaspoon celery salt
1 tablespoon prepared mustard
ground black pepper to taste
Directions
Bring a large pot of water to a boil.
Add the turnips and cook until tender but still firm ~ 15 minutes.
Drain, cool, peel, and chop the Turnips.
Place eggs in a pan, cover with water, and bring water to a boil.
Cover eggs and remove from heat and boiled let eggs sit in the hot water for 12 to 15 minutes.
Remove the eggs from the hot water, cool, peel, and chop.
In a large bowl, combine the turnips, eggs, celery, onion, relish, garlic salt, celery salt, mustard, pepper, and mayonnaise.
Mix together well and refrigerate until chilled.
Always use organic fruits and vegetables in your recipes.
Do you live in one of these Southern California Cities? Aguanga, Fallbrook, Hemet, Homeland, Lake Elsinore, Menifee, Murrieta, Temecula, Wildomar, or Winchester.  If you do, you can use the local organic fruits and vegetables in our harvest deliveries for these recipes.
Resources and Recipes