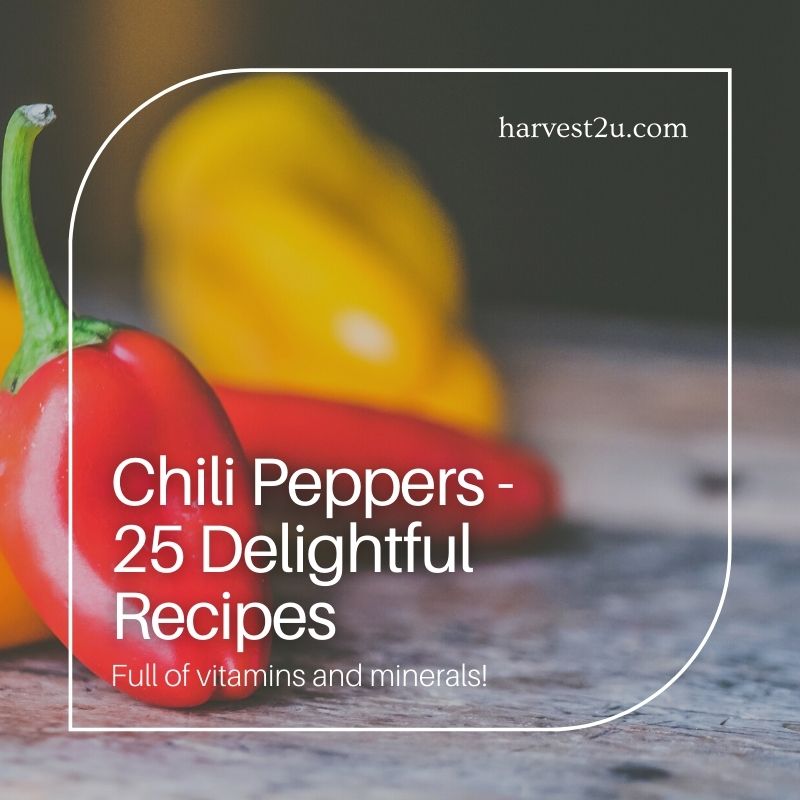 Chili Peppers – 25 Delightful Vitamin Rich Recipes
Hot chili peppers are a wonderful way to add a spicy flavor to your dishes as well as nutritional benefits. The Capsicum genus originated in the Americas and spread throughout the world after the Columbian Exchange resulting in the wide variety of colors, shapes, and heat levels we see today.
Chili versus Chilli versus Chile
Which is the correct spelling? It depends on where you are from. In the US "chili" peppers is the term most often used. British English speakers add the extra l making it chili. And in most Spanish-speaking areas it is chile.
Chili Peppers Health Benefits
Hot peppers have vitamin C, B6, K, potassium, and copper among other vitamins and minerals. But, you would need to eat a lot of them to get a significant amount.
But, hot peppers do contain a number of powerful antioxidants such as the carotenoids that provide the colors (capsanthin and violaxanthin) and capsaicin which is the compound that gives it the hot flavor. These compounds help keep the free radicals in your body under control preventing a whole host of chronic diseases.
Chili Peppers Recipes
While chilies can be dried and crushed to add flavor to dishes, the recipes below are made with fresh chili peppers. Most of the recipes can be made with your choice of peppers, so feel free to experiment.
Appetizers
Beverages
Chili Pepper Simple Syrup for drinks from Take Two Tapas
Soup with Chili Peppers
Condiments
Side Dishes
Main Dishes
Always use organic fruits and vegetables in your recipes.
Do you live in one of these Southern California Cities? Aguanga, Fallbrook, Hemet, Homeland, Lake Elsinore, Menifee, Murrieta, Temecula, Wildomar, or Winchester.  If you do, you can use the local organic fruits and vegetables in our harvest deliveries for these recipes.
Resources and Recipes