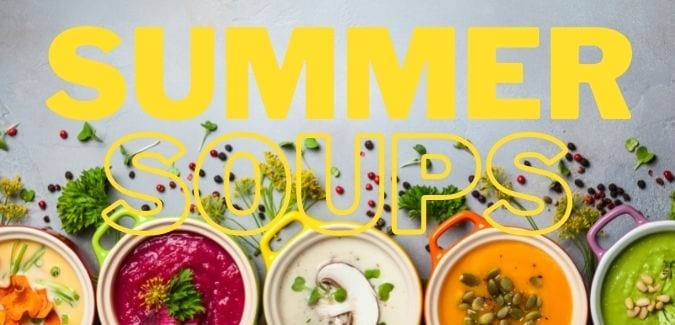 Summer Soups for Hot Days – A Healthy Way to Cool Off
Cold summer soups can be a great way to cool off and stay hydrated when the temperatures hit triple digits. Most of us don't start thinking of soups until the weather begins to chill in Autumn. And most summer soups require minimal cooking (if any) because who wants to heat up the kitchen cooking.
Here are some of my favorite summer soups loaded with fresh organic summer vegetables, so they are packed with nutrition. To make these even healthier, I recommend making your own stock with scraps from the kitchen. I use my pressure cooker, so it takes about 30 minutes to extract the delicious flavor and nutrients.
Blender Soups
Gazpacho is a Spanish soup made with organic tomatoes, cucumbers, and other vegetables pureed in the food processor or blender. No cooking required!
Suppose you don't care for tomatoes (my son) or want to try some Gazpacho variations. In that case, there is Andalusian Beet Gazpacho, Watermelon Gazpacho, and a White Gazpacho with cucumbers, grapes, and almonds.
Cucumber and Avocado Soup is another easy blender soup. This one adds fresh dill and some lime juice with a bit of cumin to amp up the flavor.
Soups Served Hot or Cold
Some people only think of Borscht and Vichyssoise as hot soups. Still, in Russia and France, where the soups originate, it is common to serve them cold in the summer months. Borscht is a sweet and sour beet soup loaded with other root vegetables. Vichyssoise is a classic potato and leek soup.
You could also serve this Creamy Zucchini Soup chilled in the summertime or hot in early Autumn.
Hot Summer Soups with Summer Produce
Suppose you prefer hot soups using organic summer seasonal produce. In that case, you can try some Summer Vegetable Soup with whatever you have on hand, Roasted Tomato Soup, or this healthy Summer Corn Chowder.
With flavorful recipes like these, there is no reason to save the soup for Autumn and winter. They make a healthy meal without spending hours heating up the kitchen.