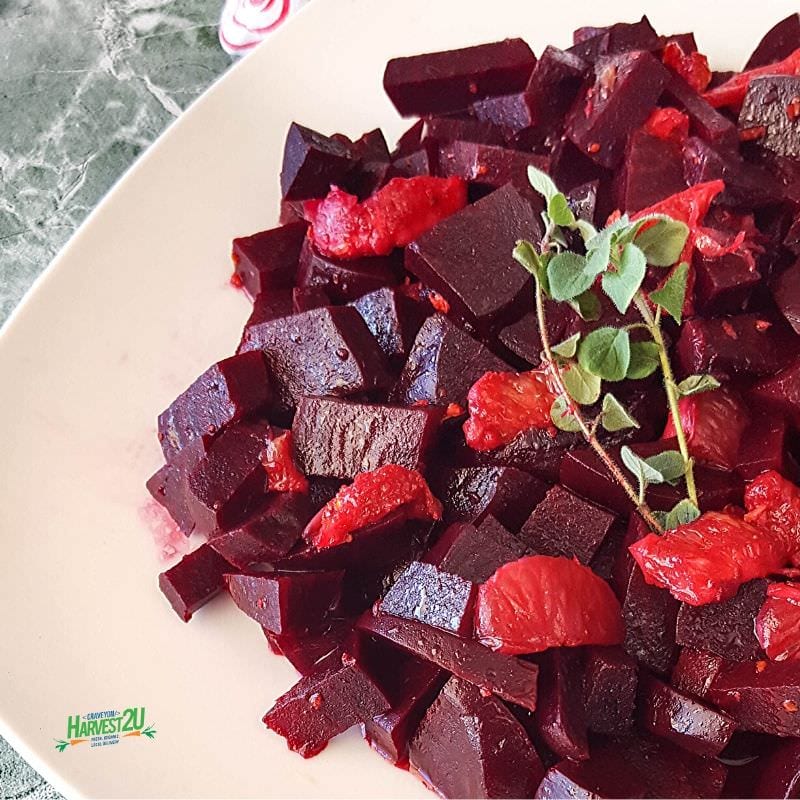 Roasted Beet and Orange Salad – A Healthy Dose of Vitamin C
Roasted Beet and Orange Salad is a bright and flavorful way to get a healthy dose of vitamin C to help your body combat everything from the common cold to cancer. Blood oranges are particularly delicious in this.
Roasting beets make them sweeter naturally, and they pair nicely with fresh oranges. You can roast the beets ahead of time and store them covered in the fridge until serving, or prepare the salad and then chill.
This recipe uses cloves like my favorite pickled beet recipe, but grated fresh ginger or lemongrass would also pair nicely for a little something extra in the dressing.
Roasted Beet and Orange Salad Ingredients
1 pound beets
2 medium oranges
2 tablespoon apple cider or white wine vinegar
1/4 teaspoon cloves
3 tablespoons olive oil
Directions
Preheat oven to 375 degrees. Trim leaves and taproot from beets. Place in a baking dish and cover with foil. Roast until beets are fork-tender, about 1 hour. Allow beets to cool. Slough off peel and slice into 1″ pieces.
Zest one of the oranges. Cut in half and set aside one half. Remove the peel and slice the remaining orange and half either horizontally in thin slices or "supreme", cut between the membrane with a sharp knife.
In a small bowl whisk together the juice of half an orange, orange zest, vinegar, cloves, and olive oil.
Combine sliced beets and oranges and toss with salad dressing.
Chill before serving.
Always use organic fruits and vegetables in your recipes.
Do you live in one of these Southern California Cities? Aguanga, Fallbrook, Hemet, Homeland, Lake Elsinore, Menifee, Murrieta, Temecula, Wildomar, or Winchester.  If you do, you can use the local organic fruits and vegetables in our harvest deliveries for these recipes.
Resources and Recipes