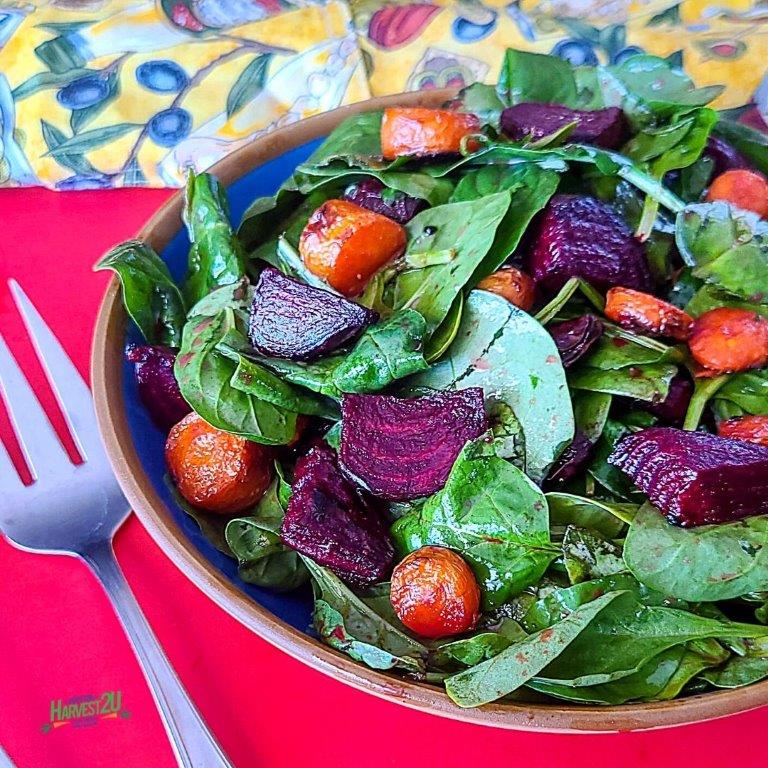 Roasted Carrot and Beet Salad – Healthy Bright Colors
Roasted Carrot and Beet Salad is a simple, colorful, and flavorful salad that can be partially prepped ahead of time to save effort at dinner time.
You can roast the carrots and beets specifically for this recipe, or cook up a double batch and serve roasted vegetables one night and save a portion to make this salad another night.
The bright colors of the carrots, beets, and spinach (or arugula) give this salad a powerful antioxidant punch. And the roasting brings out the natural sweetness of the root vegetables without refined sugar.
Roasted Carrot and Beet Ingredients
1 pound small beets, peeled
1 pound carrots, scrubbed clean
1 teaspoon olive oil
salt and pepper to taste
6-8 cups fresh baby spinach or arugula leaves
Fresh Herb Vinaigrette
1/2 cup olive oil (or oil of choice)
2-3 tablespoons apple cider vinegar
1 teaspoon local honey
1 teaspoon Dijon mustard
1 tablespoon chopped chives (or other fresh herbs)
Direction
Preheat oven to 500 degrees.
Trim the ends and cut the carrots into 1/2 inch slices.
Cut the beets into 1/2 inch wedges (cut in half if using larger beets). Toss with olive oil, salt, and pepper.
Spread vegetables in a single layer on a rimmed baking sheet. Roast until vegetables are tender and well browned, about 20 minutes. Remove from oven and place in a salad bowl to cool. 
While vegetables are cooling, combine dressing ingredients in a small bowl with a whisk. Add dressing to vegetables while cooling.
Add spinach and toss the salad before serving.