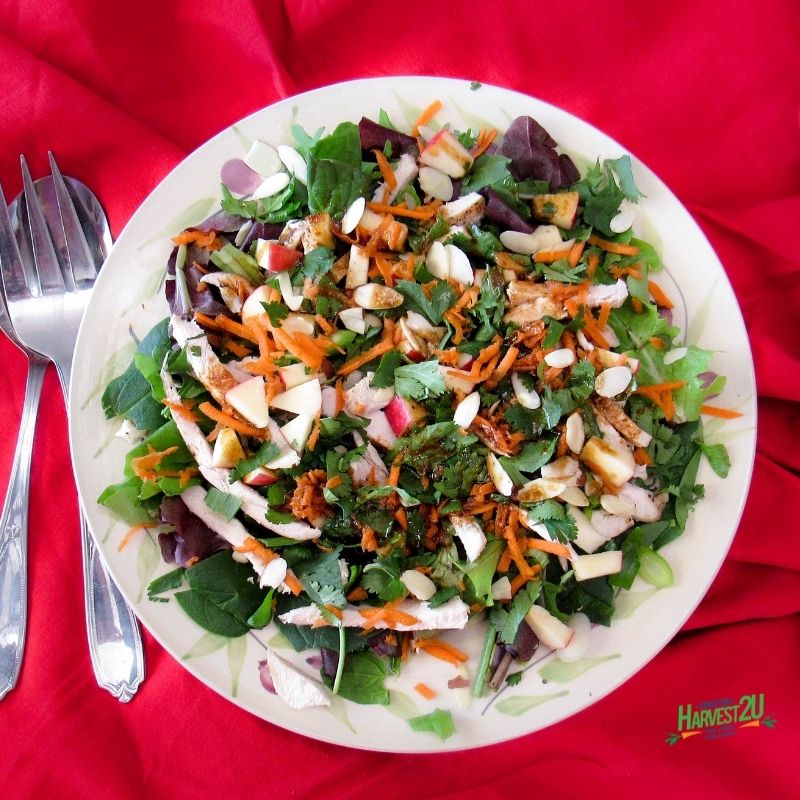 Asian Apple and Chicken Salad – Enjoy Leftover Chicken
Asian Apple Chicken Salad is a wonderful way to enjoy leftover chicken with a simple but flavorful Sesame Hoisin Dressing.
It's easy to get into a salad and just throw together some boring ingredients then dump on a bottled dressing. This salad takes a few extra minutes but the flavor is amazing. Depending on how much dressing you like, this probably makes enough for two salads just store the extra in the fridge for up to a week.
Note: Cilantro (one of the ingredients) can mobilize cadmium, mercury, lead, and aluminum in bones and central nervous systems. This herb is probably the only effective agent in mobilizing mercury stored in the intracellular space (attached to mitochondria, liposomes, tubulin, etc.) and in the cell's nucleus (reversing DNA damage of mercury).
Where to Find the Ingredients
Hoisin sauce and sesame oil are both easily found in the Asian aisle of most major grocery stores. They are two of my favorite ingredients so loaded with flavor you only need a little at a time.
As far as the salad itself is concerned go with the ingredients listed or add your favorite salad ingredients besides those listed, such as green onions, radishes, bell peppers, etc.
Asian Apple and Chicken Salad Ingredients
Salad Ingredients
4-6 cups mixed salad greens
1 cup cooked chicken, chopped
1 apple, cored and chopped
1 carrot, grated
2-3 tablespoons fresh cilantro, chopped
2 tablespoons sliced almonds
Hoisin Sesame Dressing
1/3 cup rice vinegar
3 tablespoons hoisin sauce
1 1/2 tablespoons tamari or low sodium soy sauce
1 tablespoon sesame oil
3 tablespoons olive oil
Directions
Combine salad ingredients in a salad bowl.
In a small bowl, whisk together dressing ingredients.
Add dressing to salad to taste.
Always use organic fruits and vegetables in your recipes.
Do you live in one of these Southern California Cities? Aguanga, Fallbrook, Hemet, Homeland, Lake Elsinore, Menifee, Murrieta, Temecula, Wildomar, or Winchester.  If you do, you can use the local organic fruits and vegetables in our harvest deliveries for these recipes.
Resources and Recipes