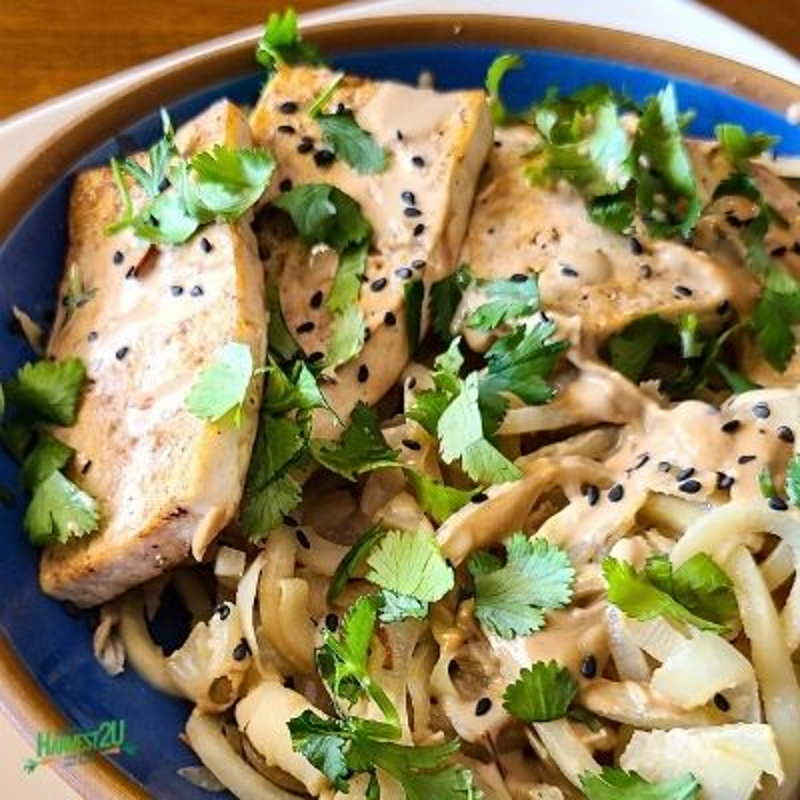 Sesame Kohlrabi Noodles – A Vegan, Grain-free Dish
Sesame Kohlrabi Noodles are a vegan, low-carb, grain-free dish that can be enjoyed as a main course or side dish.
I opted for some firm tofu in this recipe, but you can use scrambled egg, cooked chicken or pork, or any protein.
Here at Harvest2U, the kohlrabi can get VERY large, so the amounts in the recipe below may vary. I have had 8-pound kohlrabi before and would probably only use half of that in the recipe below (or double it for a crowd).
What is kohlrabi?
Kohlrabi is a cousin of cabbage that looks like a green or purple softball with crazy hair. It is a cousin of cabbage that was developed to grow in colder climates. The few leaves and stems sticking out of the top are edible, but most people just enjoy the soft stem.
You can learn more about kohlrabi and get some great recipe suggestions here.
Kohlrabi noodles are simply spiralized kohlrabi bulbs. Trim off the tough outer skin then spiralize it. You can enjoy them raw or cook them up to be softer and more like traditional noodles.
Sesame Kohlrabi Noodles Ingredients
4 ounces firm tofu
2 medium sized kohlrabi
½ cup yellow onion, chopped
1 tablespoon soy sauce
Freshly ground pepper
1 tablespoon extra virgin olive oil
Spicy Sesame Sauce for Sesame Kohlrabi Noodles
¼ cup tahini
¼ cup tamari or low sodium soy sauce
½ lemon
¼ teaspoon (or less) of red pepper flakes
For serving
¼ cup fresh cilantro, chopped
Sesame seeds
Directions
Wrap the tofu in paper towels, place on a plate and weigh down with a bowl. Set aside.
Trim the leaves, stems and outer peel from the kohlrabi. Spiralize to make about 3-4 4 cups of noodles.
In a small bowl, combine the sauce ingredients. Set aside.
Remove tofu from paper towels, discard towels and liquid. Slice the tofu into thin slices. Drizzle with 1 tablespoon soy sauce and sprinkle with cracked pepper.
In a large skillet, heat half of the olive oil over medium high heat and spread across the bottom of the pan. Cook the tofu in a single layer for 2-3 minutes per side, until heated throughout. Set aside.
Add remaining olive oil and onions to the skillet. Cook until onions begin to turn translucent, 2-3 minutes. Add kohlrabi noodles and cook until noodles are as soft as you would like, about 5 minutes for crunchy, 7-8 minutes for softer.
Stir half of the spicy sesame sauce into the noodles and onions and cook for another minute.
Remove to a serving plate. Top with tofu and drizzle with remaining sauce. Sprinkle with cilantro and sesame seeds and serve.
Always use organic fruits and vegetables in your recipes.
Do you live in one of these Southern California Cities? Aguanga, Fallbrook, Hemet, Homeland, Lake Elsinore, Menifee, Murrieta, Temecula, Wildomar, or Winchester.  If you do, you can use the local organic fruits and vegetables in our harvest deliveries for these recipes.
Resources and Recipes