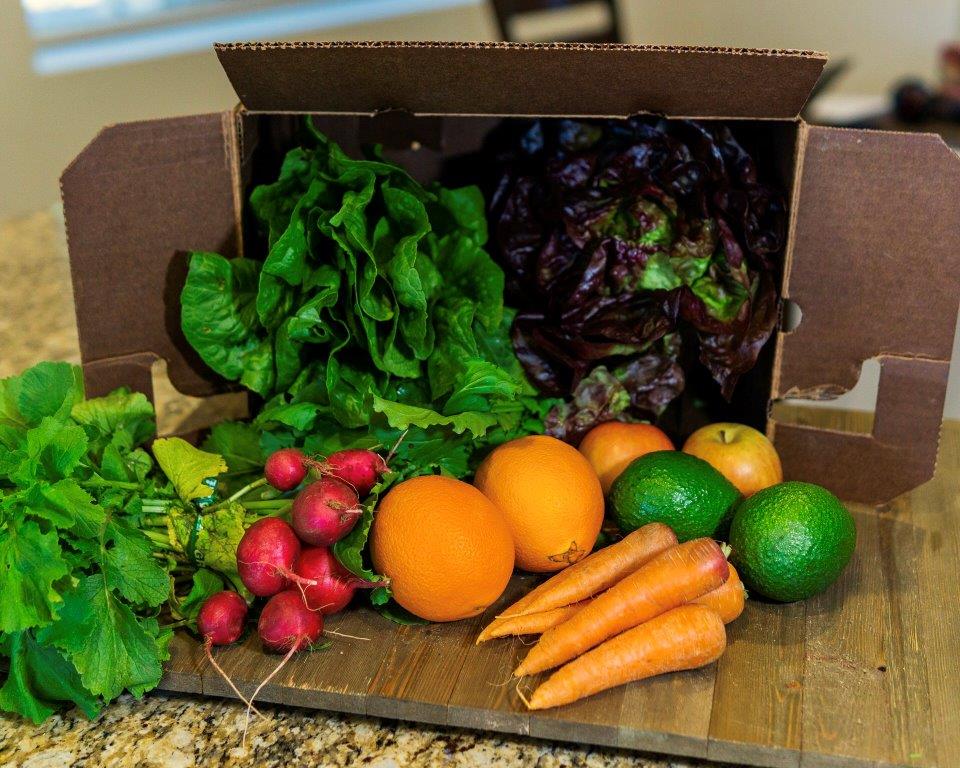 Get the Most Out of Your Harvest Delivery – Ten Tips
These Get the Most Out of Your Harvest Delivery tips are great for our Harvest2U members and can be a lifesaver (or produce saver). As each local produce season wears on, the volume of wonderfully fresh produce delivered by Harvest2U may overwhelm busy people leading regular, fast-paced lives. Here's some great news: with a weekly planning strategy and a little preparation, you'll be able to use, store, or freeze your entire Harvest bounty each week.
Get the Most Out of Your Harvest Delivery
1. Make Harvest planning a weekly ritual
Remember, Harvest2U posts the week's expected contents every Sunday at 6 PM. Take a few minutes to read what's coming, make a rough meal plan for the week, and make a shopping list for items you may need. Generally, plan to use the more tender-looking greens, fruits, and veggies (cut greens, figs, strawberries, etc.) earlier in the week. 15 minutes a week of planning will go a long way toward a healthy family!
2. Wash and prep before putting your haul away
Immediately remove ALL greens from root veggies and either discard or store like other greens for future use. Rinse everything in cold water and a splash of white vinegar to remove dust and bugs. Rinse again and dry (use a salad spinner and/or a few paper towels).  Use Harvest2U storage tips for storing everything. If fridge space is a premium, you may want to parboil or sauté your greens before storing. This is only for those items you don't think you'll use during the week.
3. Whatever you can eat raw, go for it
At Harvest2U, we're all about SIMPLE. Keep it that way. Kids (and picky adults) will enjoy carrots, heirloom cherry tomatoes, cucumbers, kohlrabi, and many other fresh items – even if it takes a little hummus. If you expect a rather busy week, look at more raw items. Plus, your body will thank you for giving it the phytonutrients and enzymes found in your Harvest. Sometimes, a little salt, other excellent spices will go a long way in eating healthfully and simply. Give it a shot!
4. And yet, cooking works…
As we go deeper into the winter veg season, sometimes we hear complaints about too many greens in the Harvests. Yes, unfortunately even in SoCal our produce variety diminishes (only slightly, though). So what to do with the greens to keep your palate interested? Here's the complicated answer – cook them. Heartier greens like Romaine, kale, and others can be stir-fried, braised, grilled, or puréed and added to soups and sauces. Cooked lettuce can be surprisingly delicious.
5. Try something new – ask for help
Harvest2U makes it a point to occasionally introduce our members to different produce. The wide variety of new and different foods our members enjoy is a special benefit. Each season, even our most "seasoned" members will find a new item or two with which to be creative. The element of surprise is one of the fun things about being a Harvest2U member. When in doubt, though, ask for help. Our Facebook family is ready and willing to offer amazing answers to any question you may want to post.
Learning to appreciate different tastes will help you on your way to honing your chef skills! Your best resource is your taste buds. Taste a little of each piece of produce that's safe to eat raw, and soon, your confidence in blending tastes will increase. Harvest2U is a great resource available for you to learn! Use us. Our Facebook page Harvest2U is designed for you to be able to ask questions of our brilliant members and us. You may be surprised at the excellent answers you receive.
6. To get the most out of your harvest delivery have green breakfast for dinner
Dr. Seuss and his Green Eggs and Ham have nothing on you! During the winter, when you think you have too many greens, one tip to get the most out of your harvest delivery is to have a green breakfast for dinner. Chop and sauté almost any greens in some olive oil, garlic, and your favorite seasonings. Crack some eggs in the pan, beaten or not, and cook until they're ready. A little cheese, some salsa or other hot sauce of choice and bam! An excellent, quick dinner entrée. Breakfast/Dinner Recipe
7. Aren't using your fruit quickly enough?
If your fruit starts to look a little old, do something to maximize its use. Cut off the base parts, keeping the good stuff. Then dice the fruit, pop it in a pot and cook it with a couple of teaspoons sugar. Cook for just a few minutes until it softens and the juices start to flow. Then cool it and store in an airtight container in your fridge. It'll store for up to a week. Use it alone, with Greek yogurt, cottage cheese, ice cream, pancakes, etc. You can do this with stone fruit, berries, apples, pears, and many other fruits.
8. To get the most out of your harvest delivery make sure your fridge temperature is correct
Your refrigerator is your friend AND your enemy. Refrigerators work by removing heat and moisture. To get the most out of your harvest delivery be sure that you are storing your produce correctly and that it is set to the correct temperature.
Your fridge temperature should be between 34°- 40°F. Bad-news bacteria love an environment 40°F. Below 40°F, non-threatening bacteria can still grow on foods – which affects their taste and smell – but they're generally not harmful. Obviously, if the temperature is too low, vegetables may freeze.
9. To get the most out of your harvest delivery – Freeze
When in doubt, freeze. Freezing is another way to get the most out of your harvest delivery. Extend the season on eating your favorites. Fruit, greens peppers, beans, tomatoes, and potatoes can be frozen raw for use later. You might consider blanching the greens for later use to cut down the bacteria and preserve cell structure. Separate out the produce on baking sheets and place in them the freezer. Keep them separate, so they don't stick together. Once frozen then put in freezer bags or air-tight containers. Enjoy!
10. Your savior is pesto
You can make excellent pesto with more than basil to get the most out of your harvest delivery. Almost any herb and some green veggies will make a pesto sauce. Think spinach, arugula, asparagus, broccoli or other. Experiment with different nuts, oils, and garlic. Use different grated cheeses. Pesto will freeze as well. When mid-winter rolls in and you pull out some excellent pre-made pesto from summer, you'll be the kitchen star!
Last, tip: Relax. With a little pre-planning, your local produce healthy menu will be a continual example of flavors and creativity.