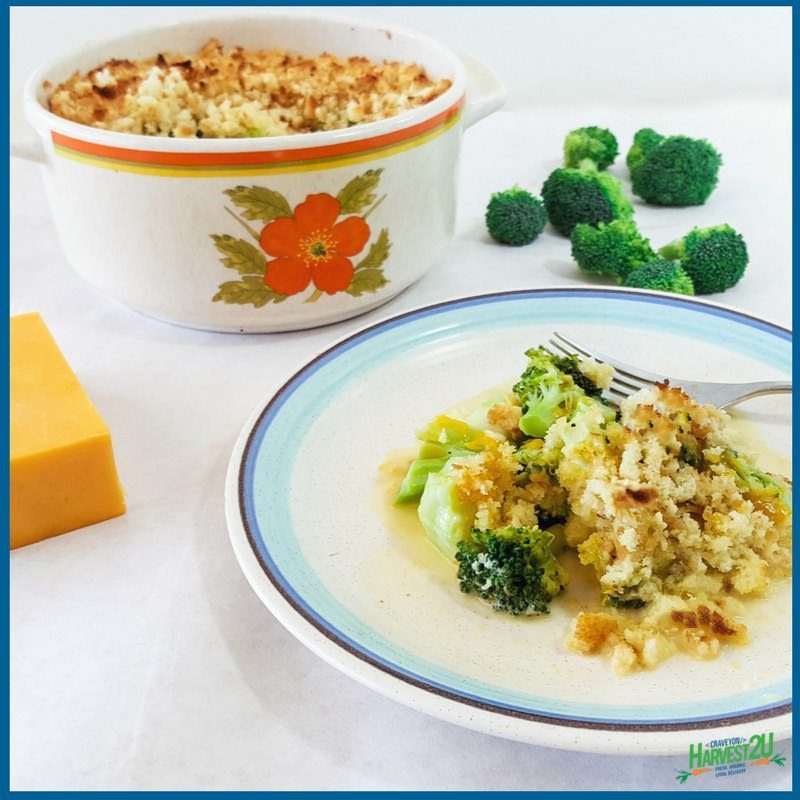 Broccoli Gratin – Pairing Broccoli and Cheddar Cheese
Broccoli Gratin is an excellent pairing of Broccoli and cheddar cheese. This dish is a weeknight feast, but you can also double or triple it up for a unique holiday side dish. To prepare ahead of time, make the topping and precook the broccoli a few hours ahead of time. Prepare the sauce and assemble just before baking.
Broccoli Gratin Ingredients
Broccoli Gratin Topping:
2 slices bread
1 tablespoon butter
dash salt and pepper
Filling:
1 pound broccoli
1 tablespoon butter
1 clove garlic,  minced
1 tablespoon flour
1/3 cup milk
1/3 cup chicken broth
1/2 teaspoon thyme
dash cayenne
dash nutmeg
1 cup cheddar cheese
Directions
Broccoli Gratin Topping:
Tear bread into 4 pieces.
Put in a food processor with 1 tablespoon butter, salt, and pepper.
Pulse a few times until it forms coarse crumbs.
Filling:
Cut the broccoli florets into one-inch pieces, peel stems and cut into pieces.
Boil for about 3 minutes until tender and drain.
Melt 1 tablespoon butter over medium heat.
Add minced garlic and cook for 1 minute.
Add flour and cook for another minute. Add milk, broth, thyme, cayenne, and nutmeg.
Bring to a boil.
Stir in 1/2 cup cheddar cheese.
Stir in broccoli.
Pour mixture into a casserole dish; top with remaining cheese and breadcrumbs.
Bake until golden brown and sauce is bubbling around edges.
Serve immediately.
Always use organic fruits and vegetables in your recipes.
Do you live in one of these Southern California Cities? Aguanga, Fallbrook, Hemet, Homeland, Lake Elsinore, Menifee, Murrieta, Temecula, Wildomar, or Winchester.  If you do, you can use the local organic fruits and vegetables in our harvest deliveries for these recipes.
Other Great Recipes and Resources