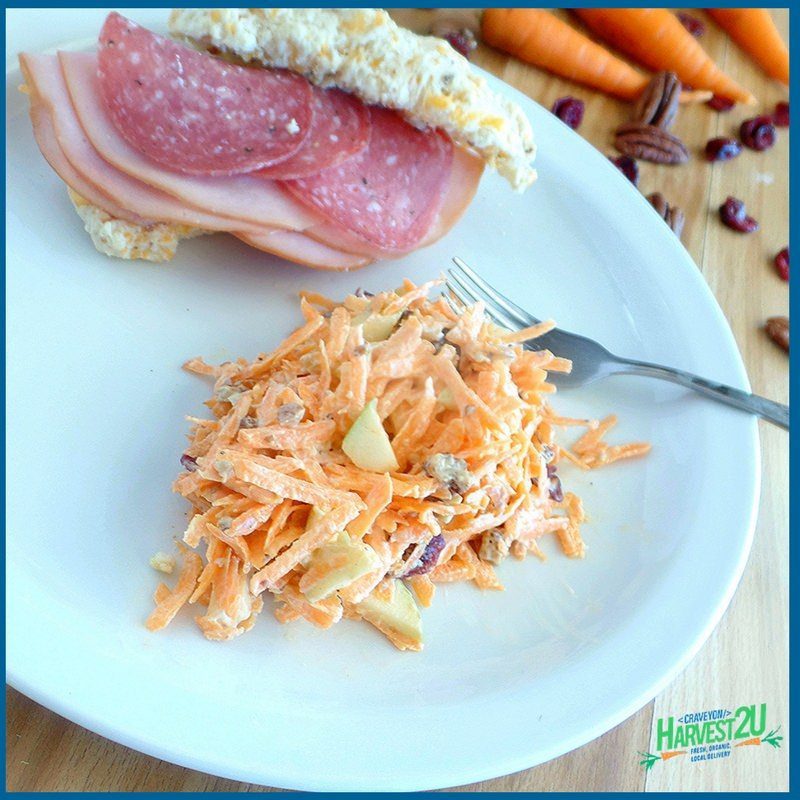 Shredded Carrot Salad – A Twist On The Traditional
This Shredded Carrot Salad recipe is a fresh twist on the traditional Carrot and Raisin Salad. This super simple salad can be mixed up to make several different variations. Use raisins or dried cranberries; pineapple or apples; sour cream, yogurt or mayonnaise. Combine it with shredded carrots and pecans for a delicious side salad.
It's amazing when you use fresh organic produce you don't need any additional sweetener. I know the dried cranberries have some added sugar, but this salad was perfectly sweet without adding any extra sugar as many recipes call for to compensate for the flavorless carrots.
Shredded Carrot Salad Ingredients
Directions
Shred the carrots, chop the apple and pecans and place in a medium bowl.
Zest the lemon and add to the yogurt.
Juice ½ lemon (about 1-2 tablespoons) and add to the yogurt. Combine with the carrot mix.
Let chill for at least one hour for the flavors to develop.
Add salt and pepper to taste before serving.
Always use organic fruits and vegetables in these recipes.
Do you live in one of these Southern California Cities? Aguanga, Fallbrook, Hemet, Homeland, Lake Elsinore, Menifee, Murrieta, Temecula, Wildomar, or Winchester.  If you do, you can use the local organic fruits and vegetables in our harvest deliveries for these recipes.
Other Great Recipes and Resources
---
The renowned chef Audrey Humaciu created this recipe for Harvest2U.
Audrey is the Editor in Chef at That Recipe and VP of Creativity and Sarcasm at Munofore. When she's not blogging about her eclectic interests from cooking and crafting to ornamental horticulture and the idiosyncrasies of the American language, she's just your typical 40 something mom livin' the life in the California burbs… without the minivan and over priced coffee.
Like Recipe Videos? Check out our Weekly Video Recipe Series. Recipe Videos