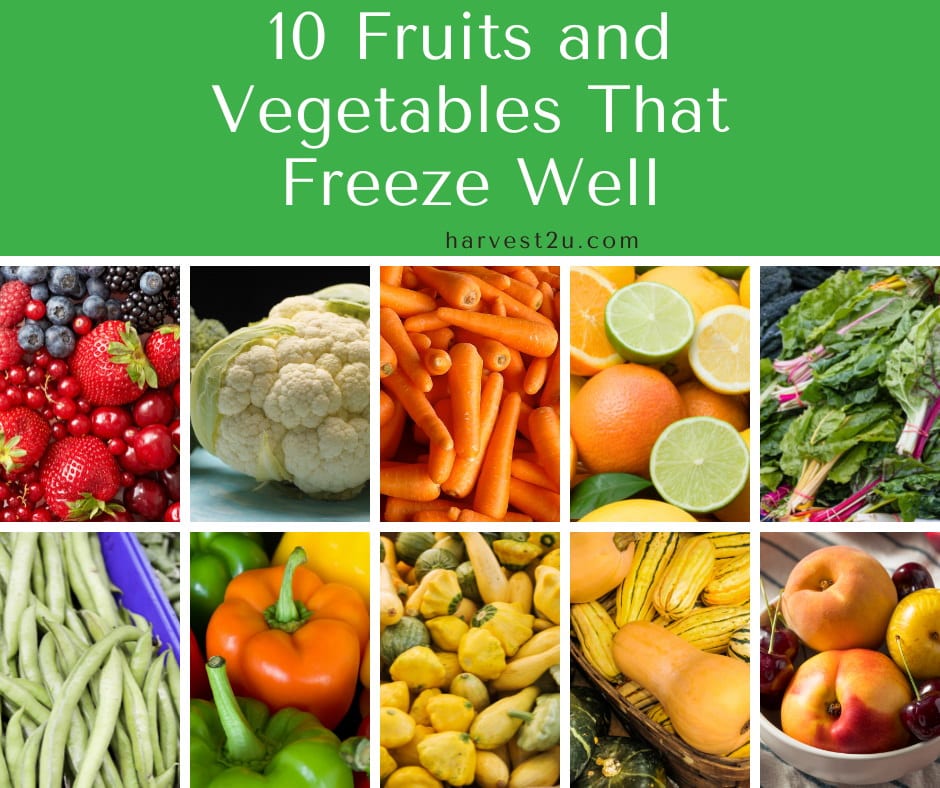 Freeze your Harvest to Enjoy Later – Use the Abundance
Sometimes you have an abundance of fruits and vegetables and maybe concerned that you can't eat it all before it goes bad. Instead of just tossing it into the compost pile, freeze your harvest to enjoy later.
In my freezer right now, I have chopped peppers to toss into soups or stir-fries, grated summer squash for zucchini bread, lemon zest for baking and sauces, and berries for smoothies.
10 Fruits and Vegetables That Help Freeze your Harvest
For most of these, you will want to blanch them by placing them in boiling water for the specified amount of time. Immediately put them in a bowl of ice water to stop the cooking.
It is best to freeze them in a single layer on a baking sheet first, then transfer them to a freezer bag or container. This way, you can remove small amounts at a time instead of having everything freeze together.
1. Berries – Freeze your Harvest
Small berries (like blueberries, blackberries, or raspberries) can be frozen whole, or you can slice larger berries like strawberries.
Uses:
2. Broccoli & Cauliflower
Trim off any leaves and remove the stems. Cut into 1-1/2 inch pieces—Blanch for 3 minutes. Freeze in a single layer on a baking sheet. Transfer to freezer bags or containers.
Uses:
3. Carrots – Freeze your Harvest
To freeze carrots, peel them, then cut them into small pieces. Blanch for 1-2 minutes.
Uses:
4. Citrus
You can cut citrus fruit in half and freeze it for juicing. You could juice it first and freeze it in ice cube trays before transferring it to freezer bags. Or you can peel and freeze the segments separately. I freeze the zest of lemons and oranges even if I am not freezing the fruit.
Uses:
5. Leafy Greens (Kale, Spinach, and Chard)
Remove thick ribs or stems, then either freeze whole or chop them. Blanch for 1-2 minutes.
Uses:
6. Green Beans and Peas
Remove peas from their pods and blanch for 1-1/2 minutes. For green beans (like snap or wax beans), blanch for 3 minutes.
Uses:
7. Peppers
Wash peppers, then cut them in half. Remove the seeds and slice them into long pieces—Blanch for 2 minutes.
Uses:
8. Squash, Summer
For use in baking, blanch grated zucchini for 1 to 2 minutes, until translucent. For all other uses, cut zucchini into slices or dices and blanch for 3 to 4 minutes until firm.
Uses:
9. Squash, Winter – Freeze your Harvest
Uncooked winter squash tastes very unpalatable and chalky when frozen raw. Chop and cook winter squash in the oven or pressure cooker and allow it to cool before freezing.
Uses:
10. Stonefruit (cherries, peaches, and plums)
Remove the pit because it can impart a bitter flavor to the fruit in the freezer. If you want to remove the skins, blanch the fruit for 30 seconds, drop it into a bath of ice water, and slough off the skin. Or, simply remove the pit, slice the unpeeled fruit into quarters or eighths.
Uses: